China accused the United States of double standards following Wednesday's Capitol Hill riots, while Communist Party publications described the scenes as "karma" for supporting Hong Kong, but an observer has told Newsweek the false equivalence is easy to pick apart.
Four people died—including one woman who was shot—in a day of violence which saw supporters of President Donald Trump storm the Capitol Building to stop the confirmation of President-elect Joe Biden's electoral votes.
Protesters, some armed, clashed with Capitol police as they tried to break into the premises during a joint session of Congress, which was temporarily suspended and its members put on lockdown before National Guard troops were dispatched to secure the area.
The violent protests received condemnation from U.S. lawmakers and foreign heads of state alike, but Beijing took the opportunity to chide Washington, and accused U.S. politicians and "mainstream media" of hypocrisy for lending their support to pro-democracy demonstrators in Hong Kong.
Democratic and Republican lawmakers and officials voiced their praise and support for over a million Hong Kong protesters when they took to the streets to oppose a government extradition bill in 2019. The legislation, which was later withdrawn, would have undermined Hong Kong's autonomy by allowing the transfer of fugitives to jurisdictions with which the city did not have an extradition treaty, including the Chinese mainland.
The protests—part of a wider democratic movement—culminated in the storming and graffitiing of Hong Kong's Legislative Council Complex in July 2019, after which activists were branded "vandals," "radicals" and "rioters" by the government.
"Many Chinese netizens are wondering why some politicians and media in the U.S. reacted so differently to a similar situation," said Hua Chunying, China's foreign ministry spokesperson.
Hua questioned why U.S. media outlets used words like "violence" and "extremists" to describe pro-Trump protesters on Capitol Hill, while demonstrators in Hong Kong were called "democracy fighters."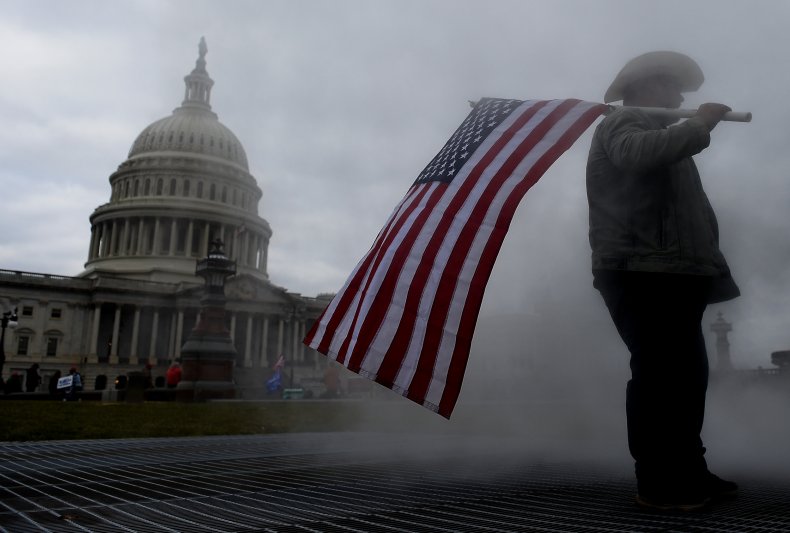 Nationalistic Communist Party newspaper Global Times doubled down on Hua's false equivalence, describing Wednesday's riots as "karma" and "retribution" for the U.S.'s support of the pro-democracy movement in the former British colony.
"After inciting so much chaos around the world under the pretext of 'freedom and democracy,' the U.S. finally tasted the 'karma' of its double standards," the state-owned tabloid said in an article without a byline.
President Trump's inciting of his supporters and his administration's inconsistencies create a "distrust in American foreign policy" and make the United States an "easy target" for Chinese propaganda, said Taiwan-based UC Irvine political science Ph.D candidate Lev Nachman, but the distinction between the protests in the Capitol and the ongoing demonstrations in Hong Kong is still "very easy" to make.
Nachman, who is a visiting scholar at the Department of Sociology, National Taiwan University, told Newsweek: "In Hong Kong, they were fighting for the right to vote. They didn't come in with guns and they weren't trying to go in to stop a vote. There was no one in parliament when Hongkongers occupied it."
"In the U.S., they weren't going to fight for the right to vote," he said. "This is a group that's trying to suppress votes; trying to stop people from voting and trying to stop the U.S. from having a legitimate election."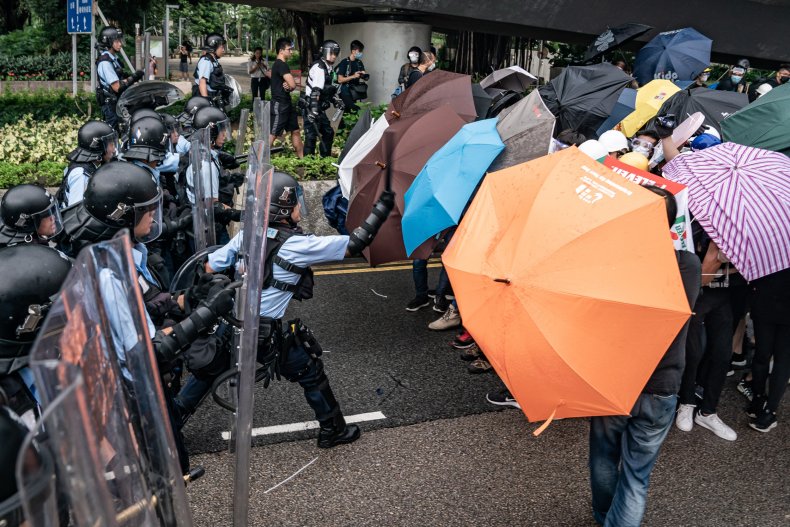 "The only similarity is they were both occupations within a government building. But the actual tactics done inside of these two places were very different," he added.
Amid the turmoil on Capitol Hill, President-elect Biden made an address calling for an end to the "disorder," saying it "borders on sedition."
But his statement was not strong enough, said Nachman, who felt similarly about Secretary of State-designate Antony Blinken's tweet following the arrests by Hong Kong police of 53 pro-democracy activists on Wednesday.
"The Biden-Harris administration will stand with the people of Hong Kong and against Beijing's crackdown on democracy," Blinken wrote.
The mass arrest was "one gigantic intimidation tactic" and painted a bleak picture for the future of electoral politics in the semi-autonomous city, Nachman said, describing the dramatic police operation—done in the name of the sweeping national security law—as effectively "nullifying" half of Hong Kong's political spectrum.
There was a marked difference between Hong Kong's disqualification of lawmakers from running and their arrests for running for office, Nachman added. "Formal politics is now dangerous."