U.S. Capitol leaders are preparing for tightened security ahead of a demonstration next week in support of people who were arrested after they stormed the Capitol on January 6 in an attempt to stop the certification of President Joe Biden's win in the 2020 presidential election.
"There are some briefings going on at the appropriate level," House Speaker Nancy Pelosi, a California Democrat, told reporters Wednesday. "We intend to have the integrity of the Capitol be intact—I'm not going into any specifics in that regard."
The upcoming demonstration, which organizers have dubbed "Justice for J6," is meant to rally support for the nearly 600 people who face federal charges over the attack.
In a video update on the rally, organizer Matt Braynard said supporters want to "raise awareness of this grave violation of civil rights of hundreds of Americans" who he considers "political prisoners."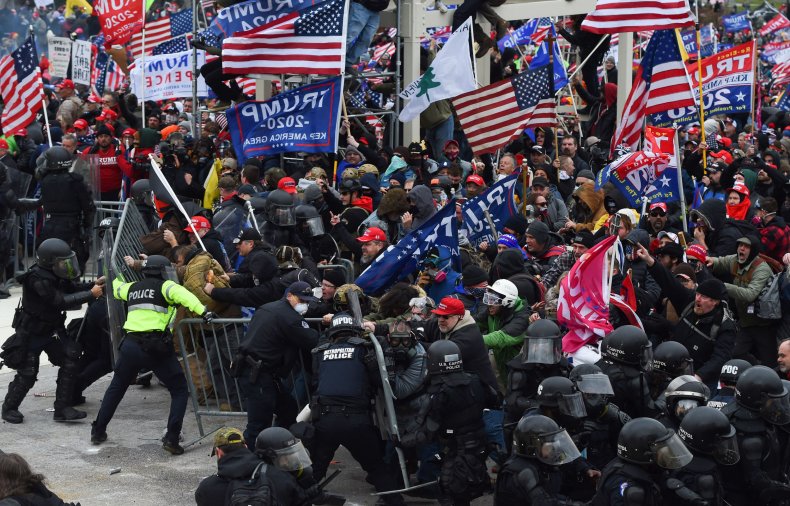 "There is no possibility of violence from our peaceful protest," Braynard told Newsweek. "We have held two similar rallies in D.C.—at the Department of Justice and at the prison where these political prisoners are being held. These events occurred without incident."
Braynard has discouraged people from wearing shirts or flying flags that promote any specific political candidate or movement other than the "Justice for J6" effort. He also has coordinated with Capitol Police, the Metropolitan Police and the Park Police on a daily basis for more than a month, he said.
"We also have a private, diplomatic security team working with the Capitol Police and many volunteers who will ensure this is a safe and productive event," Braynard said.
Without providing specific details about security plans, Pelosi said they would "not necessarily" include re-erecting the large security fence that was put in place after the Capitol was breached by hundreds of supporters of then-President Donald Trump on January 6. Pelosi said she and other leaders would likely provide more information about security precautions closer to the September 18 demonstration, which is slated to take place on the west side of the Capitol, which faces the National Mall.
"What happened on January 6 was such an assault on this beautiful Capitol," Pelosi said. "When they made the assault on the building that was one thing, but the fact is they also made an assault on the Constitution of the United States, because January 6 is not just any random day. It is a day prescribed in the Constitution of the United States for the Congress of the United States to accept the results of the election as put forth by who won the Electoral College."
Trump had refused to concede the election to Biden and spoke at a rally less than two miles from the Capitol before his supporters stormed the Capitol. The Democrat-controlled House later impeached Trump for a second time—he was not convicted in the Senate—because of his alleged role.
Pelosi appointed a bipartisan panel to investigate the violent January 6 attack, but House GOP leadership has refused to participate after Pelosi rejected two Republicans closely aligned with Trump who voted against the election's certification after the riot.
Some of Trump's Republican allies in the House, including U.S. Representatives Marjorie Taylor Greene of Georgia, Matt Gaetz of Florida and Louie Gohmert of Texas, attempted to visit a DC correctional facility in July where Capitol riot suspects were being held but were turned away.
Update 9/8/21, 4:53 p.m. ET: This story has been updated with comments from Matt Braynard.