Fallen Capitol Police Officer Brian Sicknick's Mother Pleads With McConnell, GOP to Approve Riot Commission
The mother of U.S. Capitol Police Officer Brian Sicknick, who died following the January 6 riot, met with Republican senators on Thursday to push them to approve a commission to investigate the attack on the Capitol.
"You know, usually I'm staying in the background and I just couldn't, I couldn't stay quiet anymore," Gladys Sicknick told reporters following a meeting with Senator Mitt Romney (R-Utah).
She was joined by her son's longtime girlfriend, Sandra Garza, in seeking sit-downs with every Senate GOP office to speak about the need to establish an independent body to investigate the insurrection, according to a copy of a scheduling request email obtained by Politico.
She will reportedly meet with at least 15 of the senators on Thursday ahead of an expected vote on the commission that many predict will fall short of obtaining the 10 Republican votes needed to pass.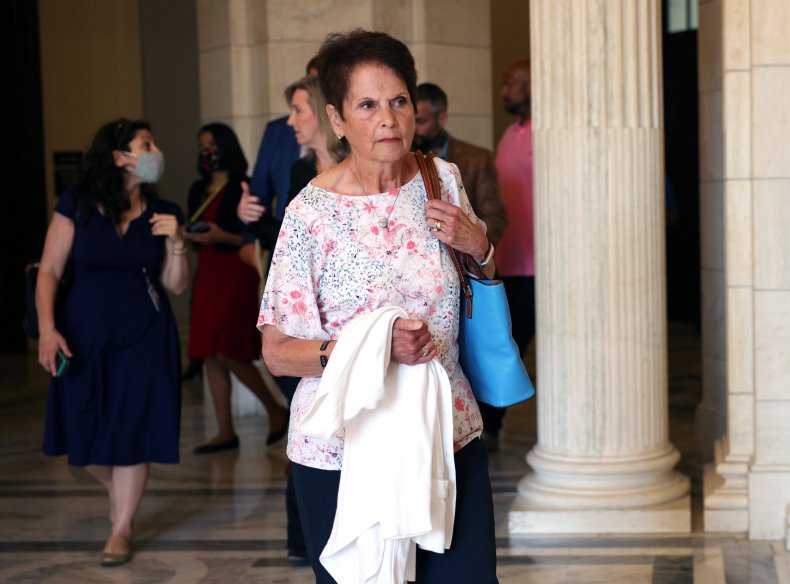 The House of Representatives passed legislation last week that would form an independent commission to investigate the insurrection. Three Republican senators—Susan Collins of Maine, Lisa Murkowski of Alaska and Romney—have indicated they will vote to proceed with consideration of the legislation.
Other Republicans, though, have spoken out against the commission, notably Senate Minority Leader Mitch McConnell of Kentucky, who called forming a commission a "slanted and unbalanced proposal."
Brian Sicknick died a day after the attack after suffering a stroke. Michael Fanone, who suffered a heart attack and concussion while responding to the riots, and Police Officer Harry Dunn, who was also injured that day, are scheduled to join Gladys Sicknick and Garza in some of their Senate meetings.
"My son, Capitol Police Officer, Brian Sicknick, died on January 7, 2021. He died because of the insurrectionists who stormed the Capitol Building on January 6," Gladys Sicknick said in a statement. "He and his fellow officers fought for hours and hours against those animals who were trying to take over the Capitol Building and our Democracy, as we know it. While they were fighting, congressmen and senators were locking themselves inside their offices. According to some who were barricaded in their offices said it looked like tourists walking through the Capitol. Really?
"Not having a January 6 Commission to look into exactly what occurred is a slap in the faces of all the officers who did their jobs that day," she continued. "Because of what they did, the people in the building were able to go home that evening and be with their families. Brian and many other officers ended up in the hospital. I suggest that all Congressmen and Senators who are against this Bill visit my son's grave in Arlington National Cemetery and, while there, think about what their hurtful decisions will do to those officers who will be there for them going forward."
The Capitol Police Officers' union estimates that almost 140 officers were assaulted during the January 6 riot.