A California man has been arrested by Capitol Police after trespassing on the grounds of the Democratic National Committee headquarters with weapons and white supremacist symbolism.
On Monday, 44-year-old Donald Craighead of Oceanside, California was arrested for possession of prohibited weapons. During a nightly patrol, a special operation division officer found Craighead's Dodge Dakota pickup truck parked outside of the DNC headquarters.
Craighead's pickup truck had multiple swastikas painted on the rearview mirror and inside of the vehicle, along with the word, "Confederate" spelled out on the dashboard and a pentagram on the steering wheel.
The pickup truck also had an American flag covering the license plate and a bayonet and machete inside the truck, both of which are illegal in Washington, D.C.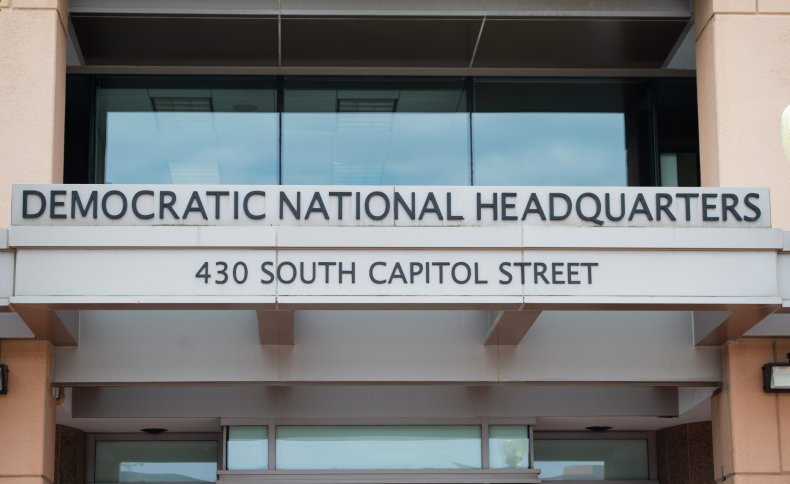 Once the officer caught up with Craighead, the 44-year-old stated that he was on "patrol," while repeating white supremacy rhetoric.
It's unclear whether Craighead was planning to execute any further criminal acts or if he's tied to any disturbances that have recently taken place at the DNC headquarters, but the USCP Investigations Division will continuing searching for possible motives.
In a press release provided by the U.S. Capitol Police, Chief Tom Manger stated that Craighead's arrest was "good police work, plain and simple."
"We applaud the officers' keen observation and the teamwork that resulted in this arrest," said Manger.
Operational Services Bureau Deputy Chief Jason Bell stated that "this is an excellent example of the work our officers do every day." "We are so proud of these officers for their vigilance," said Bell.
Capitol Police have had a number of incidents, especially after the Capitol insurrection which took place on January 6.
On August 19, 49-year-old Floyd Ray Roseberry of Grover, North Carolina was arrested after he parked his black pickup truck on an adjacent sidewalk at the Library of Congress and stated that he had a bomb.
Roseberry's threats prompted law enforcement to evacuate the entire area while a five-hour standoff ensued between police and Roseberry, who suffers from mental illness, according to his ex-wife Crystal Roseberry. Roseberry streamed the entire incident on his Facebook page, which ended up being deleted by the company, according to Facebook Inc. spokesman Andy Stone.
"We are in contact with law enforcement and have removed the suspect's videos and profile from Facebook and Instagram," the company said in a later statement.
House Speaker Nancy Pelosi who was in California, credited police for their prompt response.
"The immense gratitude of the Congress is with all law enforcement officers who today and all days sacrifice to keep the Capitol Complex and those within it safe," Pelosi said in a statement.
Newsweek has reached out to the Democratic National Committee for further comment.