Capitol Police Call Plan to Hire Private Security to Protect Capitol 'Last Thing We Need'
The U.S. Capitol Police union criticized a plan to hire private security as the department deals with a staff shortage nearly one year following the violent riot at the U.S. Capitol.
On year after the deadly riot, the department remains short staffed. In addition to those officers who have died since the riot, about 200 have left the department, U.S. Capitol Police Chief Tom Manger said on Fox News Sunday.
Manger called the shortage "the biggest problem that we face today."
"One thing we have not been able to fix, so to speak, are the staffing issues," he said. "We lost over 130 officers that have left through either retirements or resignations after January 6."
One solution proposed by the department is to bring on private security officers. Manger said they have identified posts where they do not need Capitol Police officers.
"We think that if we are able to put contract security guards at some of those posts, that will free up a number of sworn police officers and we can assign them to where they're needed, and where we're require actually an armed Capitol Police officers," he said.
He also said the department has a plan to put 280 new officers through the police academy.
But the police union, in a statement first reported by Politico, blasted the proposal to hire private security, instead insisting that hiring more police officers should be the top priority.
"We need to hire more officers—period," chairman Gus Papathanasiou said in the statement. "The last thing we need are private security contractors who are not trained to our standards. It's a recipe for disaster. In law enforcement, we have to trust the men and women next to us. That trust enabled us, along with our partner agencies, to hold back the attackers on January 6th long enough to safely evacuate all Members of Congress and the Vice President."
The union warned there would not be the same amount of "trust and commitment from private security guards being paid just above minimum wage."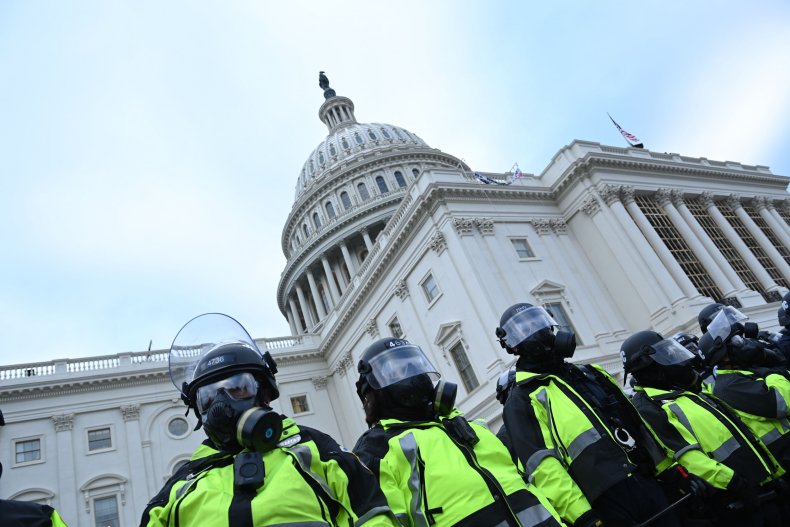 "We do not believe this is the force posture that Congress needs or actually wants," the statement said.
The union also said changes have not been implemented quickly enough to "meet the increasing and evolving threats" faced by members of Congress, their staff and visitors. Papathanasiou wrote that the department has previously not hired "enough officers to meet the threat."
"My biggest fear right now is a lack of manpower to meet the rising threat levels. The USCP is authorized to have 2,072 officers. On January 6th we were 233 officers below that level. As an officer on duty that day, I can tell you we could have used every one of those officers," he wrote.