Capitol Police Chief Yogananda Pittman Says Threats Against Lawmakers Have Doubled Since 2017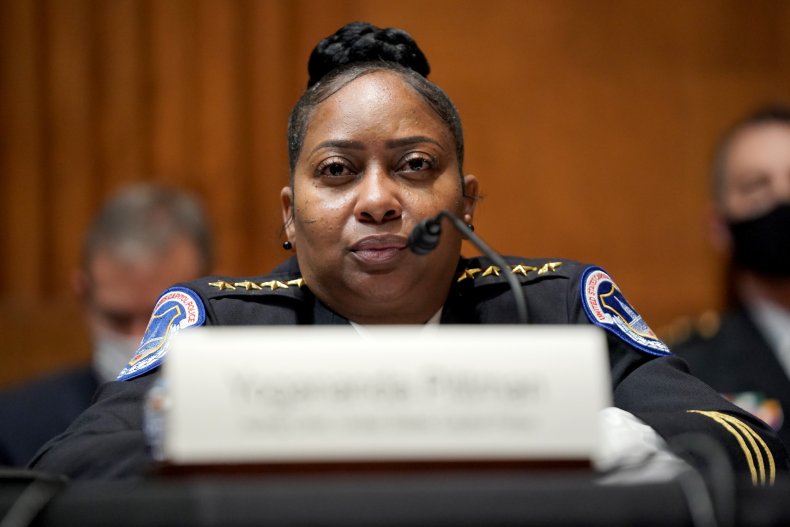 Threats against U.S. lawmakers have more than doubled since 2017, according to acting Capitol Police Chief Yogananda Pittman.
Pittman made the remarks Wednesday during a hearing of the Senate Appropriations subcommittee, which oversees funding for the Capitol Police budget. During a hearing of the same subcommittee on March 3, Pittman told senators that there had been a 93.5 percent threat increase in the first two months of 2021.
"In the first four months of this year, we've had a 65 percent increase in threats against members compared to 2020," Pittman said Wednesday. "From 2017 to 2020, there was 119 percent increase in the total threats and directions of interest against members, with the majority of the suspects residing outside of the NCR [National Capital Region]."
Pittman recalled the January 6 riot at the Capitol, when angry supporters of former President Donald Trump violently stormed the building in an attempt to stop a joint session of Congress from certifying President Joe Biden's 2020 election win. Over 80 officers were injured during the attack.
Pittman said that Capitol riot was responsible for the deaths of Officer Brian Sicknick, who died one day after fending off rioters, and Officer Howard Liebengood, who died by suicide three days after the riot. She also referenced the death of William "Billy" Evans, who died in a separate attack on April 2.
"Shortly after the attack on January 6 that resulted in the deaths of Officer Sicknick, Officer Liebengood and the lone assailant that struck and killed Officer Evans and injured another at the Capitol's north barricade, it would be right for me to say that this is a difficult time for the department," said Pittman. "And that is probably an understatement."
Francisco J. Diaz, medical examiner for Washington, D.C., said Monday that Sicknick had died of natural causes following two strokes. However, Diaz said that his ruling did not mean Sicknick engaging with the violent mob was not a contributing factor in his death, saying "all that transpired played a role in his condition."
"The USCP is steadfast in ensuring that an incident of this nature will never occur again, especially with the realization that the possibility of a similar incident occurring in the current environment is a very real and present danger," Pittman said. "The events of January 6 demonstrate that the department must build its capabilities to adapt quickly, it must plan for the unknown."
Pittman asked senators for a "significant investment" in increasing the Capitol Police budget during the fiscal year 2022, saying the funds will be needed for staffing and training purposes, as well as to tackle "dynamic and ever-changing security challenges, including the rising threat of domestic terrorism."
Newsweek reached out to the Capitol Police for comment.