Capitol Police Didn't Open Gates for Rioters, Says Man Behind Viral Video
A viral video does not show police allowing crowds to breach barricades during riots at the U.S. Capitol—as many have claimed on social media—the person who shot the clip has told Newsweek.
Footage captured by Marcus DiPaola, a freelance journalist working at TikTok, has been viewed more than 30 million times on Twitter and more than 1.7 million times on TikTok.
Many who have shared the clip have suggested it shows police letting people get close to the building. One Twitter post that featured the clip alongside the caption: "the police opened the f***ing gates" has been shared more than 200,000 times.
However, officers only backed away after being threatened while being vastly outnumbered, DiPaola said.
"They definitely didn't just open the barriers, the pro-Trump rioters made a fist like they were going to punch the cops, which is why I started recording, then they backed off the barricades," he told Newsweek in an email when asked for extra context to the clip.
"Completely outnumbered, there wouldn't have been any point in fighting. The rioters moved up the steps of the capitol pretty quickly, capitol police tried to hold them back but they didn't have riot shields and really got pushed around.
"That's when I saw the pro-Trump mob reach the upper steps of the capitol, they smashed in the window and just kept hammering at the door until a bunch of them got in."
Officers did use pepper spray, DiPaola said, but it was not effective at stopping the crowds, suggesting the officers were under-equipped for such scenes.
"I saw multiple police get knocked to the ground, one got trampled a little bit, but the rioters helped him up and pushed him out. The rioters really did just completely outnumber the cops, there was not much anything they could do without manpower."
Media commentators have also questioned the wider policing operation and preparedness. On Thursday morning, MSNBC host Joe Scarborough accused law enforcement of "opening the door for terrorists" in Washington, D.C.
Newsweek has contacted Capitol Police and D.C. Police for comment.
Photographs taken by Getty Images show officers battling to hold their lines in front of swathes of pro-Trump supporters who had converged to protests the president's recent election defeat.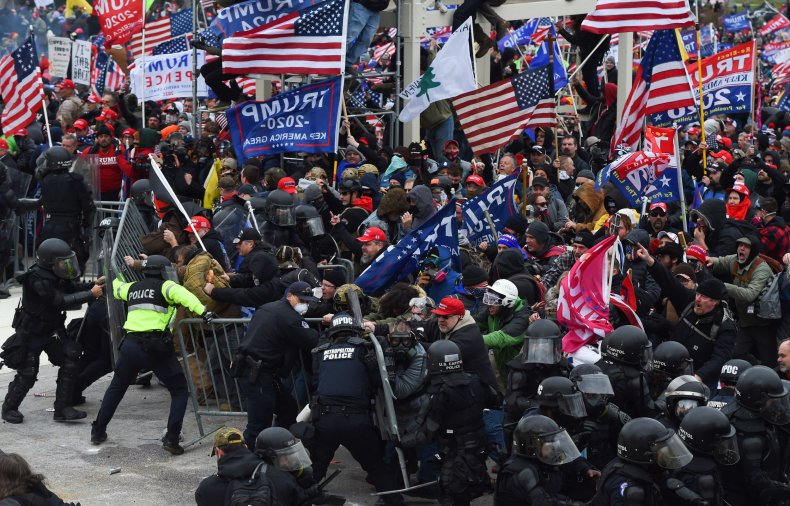 A mob later pushed past police who were trying to block them from entering the building, where inside lawmakers debated electoral college votes which confirmed President-elect Joe Biden's victory.
The D.C. National Guard was later called to help law enforcement take back control of the area.
Four people died and 52 were arrested during the riots. The FBI has begun an investigation and is appealing for the public's help in identifying those involved.