Capitol Police Officer Dead After Suspect Rams Into Barricade, Brandishes Knife
One Capitol Police officer has died after an unknown suspect rammed a vehicle through a barricade at the U.S. Capitol on Friday.
Acting Capitol Police Chief Yogananda Pittman announced the officer's death at a press conference at 2:45 p.m. Eastern Time. One other officer was hit during the incident and was taken to a hospital.
The suspect died after being shot by Capitol Police during the incident. Law enforcement officials said he brandished a knife when he exited the vehicle after driving into the security point. Pittman said the suspect did not listen to verbal commands when officers tried to engage with him.
Authorities did not provide any further details on the identities of the police officers or the suspect.
"I just ask that the public continue to keep U.S. Capitol Police and their families in your prayers," Pittman said.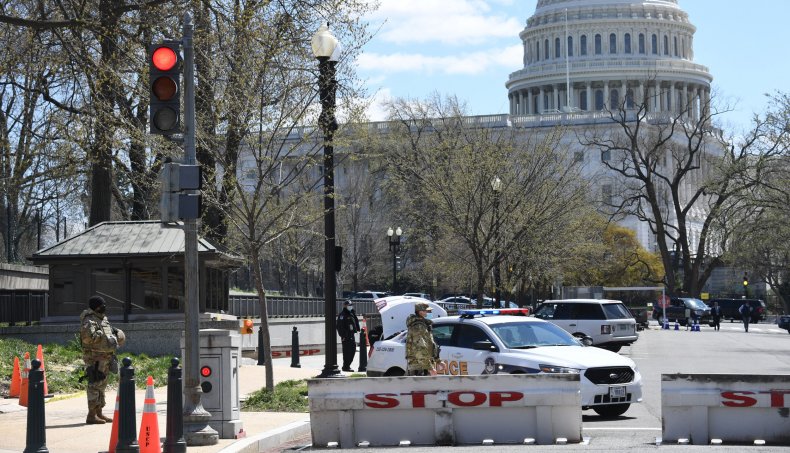 Reports of danger in the area began to appear shortly after 1 p.m., when Capitol Hill staffers received warning of an "external security threat, no entry or exit is permitted, stay away from exterior windows, doors."
Subsequent videos uploaded to Twitter by Punchbowl News founder and NBC News analyst Jake Sherman showed multiple vehicles and helicopters arriving at the scene as the Capitol campus was placed under lockdown.
The Capitol Police tweeted at 1:25 p.m. that officers were responding to the North Barricade vehicle access point along Constitution Avenue "for reports someone rammed a vehicle into two USCP officers. A suspect is in custody. Both officers are injured. All three have been transported to the hospital."
Robert Contee, acting chief of the Metropolitan Police Department, said during Friday's press conference that the attack "does not appear to be terrorism-related" but noted that the investigation is ongoing.
President Joe Biden was not in Washington when the event occurred. Biden was at Camp David after departing the White House earlier on Friday.
White House press secretary Jen Psaki, who learned of the Capitol threat during a press briefing, told reporters that the president "always travels with a national security rep, of course within—somebody who serves as essentially an acting chief of staff, typically a member of the press team, who travels regularly to kind of reconstruct the team that's around him in the White House."
Friday's threat comes as the nation's capital remains on edge three months after insurrectionists stormed the Capitol as Congress voted to certify Biden's Electoral College victory in the 2020 election.
Until recently, the area surrounding the building had extra security measures and fencing that prevented vehicular traffic, following the January 6 Capitol riot.