Capitol Police officer Eugene Goodman spoke publicly for the first time about the events of January 6, 2021, during a Tuesday appearance on the 3 Brothers No Sense podcast.
Goodman, who was memorably seen on video diverting Capitol rioters away from the unprotected Senate chamber, praised fellow law enforcement officers for the restraint they showed when confronted by an angry mob.
He said if the officers had not exercised such good judgment, the riots "could have easily been a bloodbath."
Goodman received multiple accolades following the Capitol riot. He was awarded the Congressional Gold Medal for his valor in February 2021, and a photograph of him during the riots was featured on the cover of Time magazine in November.
In June, he also threw out the first pitch at a Washington Nationals baseball game, with the team saying on Twitter that they were "humbled and honored" by his presence.
What Goodman hasn't done is speak publicly about the events of January 6 or about how a video was shown during the second impeachment trial of former President Donald Trump of him leading Senator Mitt Romney away from rioters.
Goodman said he chose to "play it safe" by appearing on 3 Brothers No Sense. He noted that one of the show's hosts, Byron Evans, was also in the Capitol building as an on-duty police officer during the riot.
"I was on the Senate floor thinking I was going to have my first shootout at work," Evans said at the start of the interview. "And because of what he [Goodman] did, that did not have to occur. He is a real-life hero."
As for why he didn't speak out before, Goodman explained it was because of how people have directed abuse at fellow Capitol police officers Harry Dunn and Michael Fanone.
"He said he's out with his daughter, and he's had random people run up and throw drinks in his face," Goodman said regarding Fanone.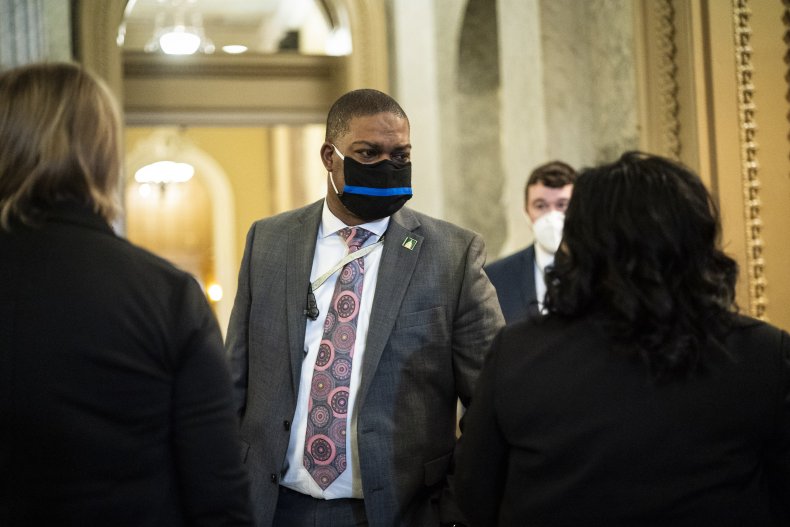 The spotlight managed to find Goodman, though, and he discussed being Vice President Kamala Harris's escort to the presidential inauguration. He also said he's come across people selling his likeness on merchandise.
"I actually saw a guy with a sweatshirt, and I tried to buy one and he tried to charge [me]," Goodman recounted. "I said, 'This dude gonna charge me for my own face?' That's funny."
When talking about his quick decision-making during the moment he led rioters away from the Senate chamber, Goodman credited the training he received as a member of the U.S. Army. He said he learned to "think on the fly" during his time in the military, where a sergeant instructed troops they had "to figure it out or die."
Goodman also talked about being criticized online and addressed the person who recorded him luring rioters upstairs away from the chamber.
"I don't even remember seeing him, actually," Goodman said of the person who made the recording and later posted the footage online. "I mean, I had so many people around me, it was just a matter of just trying to be safe and, you know, I don't even remember seeing him, actually."
Though he's had "ups and downs with the popularity," Goodman was emphatic about one way in which he doesn't want to be memorialized.
"I don't need no statue though," he said. "That's just one more thing for a bird to prop up and take a dump on."