Capitol Police Officer Hospitalized After Van Crashes into Motorcycle
A motorcycle-riding Capitol Police officer in Washington D.C. has been airlifted to the hospital after a van collided with his vehicle.
The collision occurred near 3 p.m. and didn't seem to be a deliberate attack against the officer, according to WJLA.
"At this time, this does not appear to be tied to terrorism and there is no threat to Congress or the Capitol Complex," the Capitol Police wrote in a tweet about the crash.
The driver stayed with the officer at the scene as emergency services responded. Police blocked off adjoining streets to keep traffic from interfering with the crash site. The van's driver was later arrested for driving without a valid permit.
Newsweek contacted Capitol Police for comment.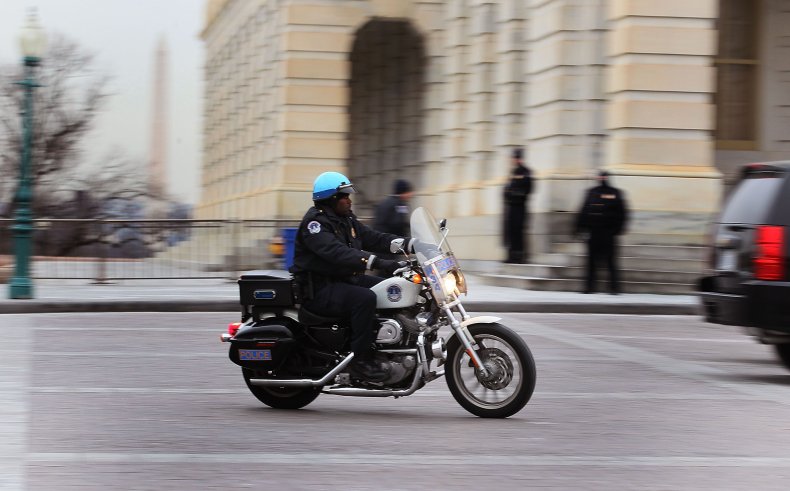 On the day of the crash, the Associated Press reported on Gladys Sicknick, mother of Brian Sicknick, a Capitol Police officer who died in connection with the January 6 Capitol insurrection. She urged Republican lawmakers to support a commission to investigate the deadly insurrection.
"I suggest that all congressmen and senators who are against this bill visit my son's grave in Arlington National Cemetery and, while there, think about that their hurtful decisions will do to those officers who will be there for them going forward," Gladys Sicknick said. "Putting politics aside, wouldn't they want to know the truth of what happened on January 6."
During the insurrection, rioters trying to overturn the results of the 2020 election injured nearly 140 officers from the Capitol Police and Metropolitan Police Department in Washington. Many officers were beaten by rioters. The officers suffered injuries including a broken spine, a lost eye, lost fingers, brain damage and multiple cases of post-traumatic stress disorder. Two Capitol Police officers have also died by suicide since the insurrection.
Video showed two rioters spraying Brian Sicknick with a chemical during the insurrection. Washington medical examiner said Sicknick suffered a stroke and died from natural causes, though it's unclear if the chemical played a role. The men who sprayed Brian Sicknick have been charged with assault.
Democratic Senate Majority Leader Chuck Schumer of New York set up a Thursday procedural vote on the commission to investigate the insurrection. But while 35 House Republicans supported the commission, it seems unlikely that 10 Senate Republicans will support the effort. The commission would require the support of 10 Republicans and the entire Senate Democratic caucus in order to begin.
Republican Senate Minority Leader Mitch McConnell of Kentucky has said that Democrats want the commission to "continue to debate things that have been done in the past." McConnell has urged Senate Republicans to vote against the commission.