Capitol Police Prepare for People's Convoy to Arrive Earlier Than Scheduled
Capitol police are anticipating the People's Convoy, a group of anti-COVID mandate protesters, to arrive in Washington, D.C., earlier than the truckers' scheduled trajectory.
U.S. Capitol Police (USCP) are preparing for protesters to begin popping up at the Capitol ahead of President Joe Biden's State of the Union Address to Congress on March 1, even though the timeline from the People's Convoy estimates that they will arrive in the D.C. area the evening of March 5.
Protesters were planning to gather on Wednesday morning in Adelanto, California, before traveling across the country to demand that all COVID-related restrictions be lifted nationwide—a transcontinental demonstration inspired by Canadian truckers who completed a similar journey last month and occupied Ottawa for 24 days.
According to the convoy's website, the group will leave the Sullivan, Missouri, area for Indianapolis, roughly 585 miles from D.C., the day of Biden's address.
Despite the timeline, authorities in the D.C. Metro area have been executing safety plans, having already secured roughly 400 National Guard soldiers and 50 tactical vehicles from the Department of Defense.
The resources are expect to begin arriving in the city by Saturday—a week ahead of the convoy's scheduled arrival—and approved to last through March 7.
In a Wednesday letter, obtained by WUSA, USCP warned staffers on Capitol Hill that "Potential impacts of truck convoys may be expected to coincide with the State of the Union Address to Congress, and extend through mid-March."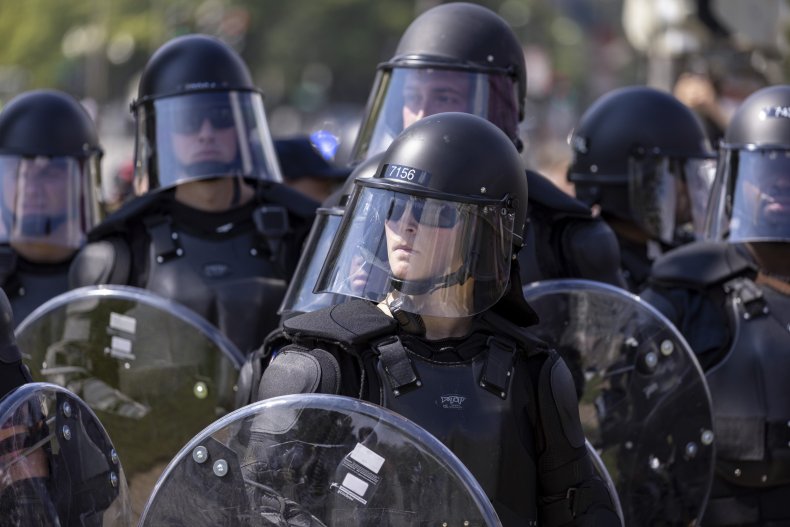 "Senate staff in D.C. and state offices should anticipate that these convoys may cause higher than normal traffic volumes and possible transportation disruptions on and around roadways in the Washington, D.C. area, and along various main roadways throughout the country," police said. "Similar recent events in Canada have involved large trucks or commercial vehicles, which blocked or impeded traffic."
USCP informed congressional staff that the department is aware of the convoy's activities and is working with law enforcement partners to support peaceful demonstrations.
Defense Secretary Lloyd Austin approved for the provision of up to 300 National Guard personnel from neighboring states to help USCP with traffic control operations.
The convoy is expected to drive through Arizona, New Mexico, Texas, Oklahoma, Missouri, Indiana, Ohio, Pennsylvania and Maryland before reaching D.C.
"The People's Convoy will abide by agreements with local authorities, and terminate in the vicinity of the DC area, but will NOT be going into DC proper," the People's Convoy said in a Sunday press release.
The group has kept most of its protest plans mum, citing security reasons. One of the truckers told Steve Bannon on Tuesday that their plans could change as they make their 11-day cross-country journey.
"We're gonna grow exponentially as we cross this country," the trucker said. "There's a couple options on the table for we're gonna do in D.C., and we'll make those decisions en route."