Capitol Police Say Two Officers Rammed by Car, Suspect in Custody
The U.S. Capitol Police Department announced on Friday that the unknown suspect who hit two Capitol police officers with a car has died. During a press conference, Capitol Police Chief Yogananda Pittman also confirmed the death of one of the officers involved in the incident, which took place early Friday afternoon.
Pittman said that after driving into the barricade, the suspect exited the vehicle wielding a knife. The officers engaged the suspect, according to Pittman, but after the suspect failed to respond to verbal commands, the officers opened fire.
In a tweet shared immediately after the incident, the department wrote that officers were responding to the Capitol's "North Barricade vehicle access point" near Constitution Avenue "for reports someone rammed a vehicle into two USCP officers."
"A suspect is in custody. Both officers are injured. All three have been transported to the hospital," the department wrote in the tweet.
A spokesperson for the D.C. Fire and Emergency Medical Services Department (DC FEMS) confirmed to Newsweek that they were transporting at least two victims to a local hospital.
The suspect was taken to a local hospital in critical condition before his death. One of the officers involved in the incident was transported to a local hospital via police car while DC FEMS transported the second, according to the AP.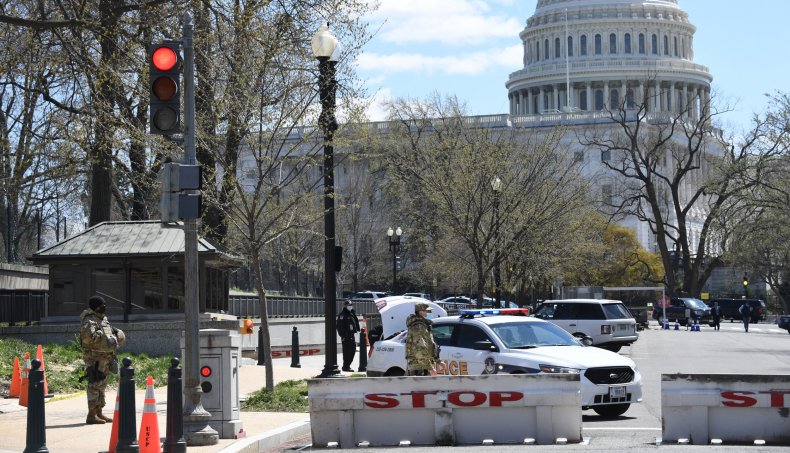 Newsweek reached out to the Capitol Police Department for comment, but did not receive a response in time for publication.
In response to the incident, the Capitol Police Department ordered road closures for "Constitution Avenue between Second Street NE and First Street NW," and "First Street between Constitution Avenue NE and Independence Avenue SE."
Those in the area of the incident received alerts of an "external security threat" urging individuals to seek cover.
The incident occurred while White House press secretary Jen Psaki was holding a press conference. When asked if President Joe Biden had been briefed on the matter, Psaki said that he was being informed. Biden traveled to Camp David on Friday and was not in D.C. when the incident occurred.
Numerous photos and videos of the incident were posted across social media, showing a large police presence surrounding the Capitol.
"A helicopter just landed on the east front of the Capitol. I've never seen anything like this before. ever," Jake Sherman of PunchBowl News wrote on Twitter.
According to CNN's Jake Tapper, a spokesperson for the D.C. National Guard said in a statement: "The DC National Guard deployed an Immediate Response Force composed of National Guard soldiers and airmen to the Capitol complex this afternoon to support the U.S. Capitol Police."
Correction 4/2/2021, 4:30 p.m. ET: An earlier version of this story misspelled Capitol Police Chief Yogananda Pittman's first name. Newsweek regrets the error.