Seven Capitol Police officers filed a lawsuit on Thursday against former President Donald Trump and far-right extremist groups for the January 6 riots on the U.S. Capitol, accusing them of committing "bias-motivated acts of terrorism."
The suit was filed in the Federal District Court in the District of Columbia, and alleges that Trump and others conspired to use violence to prevent a peaceful transition of power on January 6.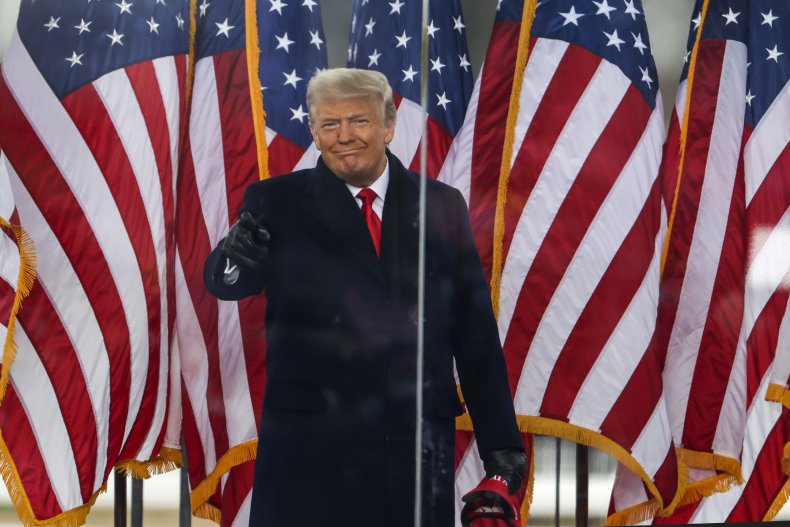 The suit argues the defendants violated Enforcement Act of 1871, also known as the Ku Klux Klan Act. This statute protects against violent conspiracies that "prevent, by force, intimidation, or threat, any person from accepting or holding any office, trust, or place of confidence under the United States."
Along with Trump, his former adviser Roger Stone is named in the lawsuit, as are almost 20 members of far-right extremist groups and political organizations like the Proud Boys, the Oath Keepers, and leaders of the "Stop the Steal" movement.
The New York Times reported there haven been three other similar lawsuits filed in recent months. Trump has tried to have those previous cases dismissed, arguing he cannot face civil litigation because he was acting within his official capacity as the sitting president on January 6.
The latest suit differs in that it's the first to accuse Trump of working with far-right extremist groups and political organizations in pushing his widely debunked claims of election fraud.
The civil suit comes as the Justice Department continues what has been called the largest criminal investigation in its history with its work regarding the Capitol attack. A committee in Congress also recently opened an inquiry into the riot and held a hearing featuring testimony from officers tasked with protecting the Capitol from an angry, violent mob on January 6.
The lawsuit filed Thursday features news reports, details from Justice Department criminal cases and conspiracy allegations dating back to May 2020. It was in May of last year when Trump is first cited with claiming on social media that mail-in voting could result election fraud.
Trump's mention of the Proud Boys during a September presidential debate is also mentioned. During that debate, Trump addressed the Proud Boys from the stage, saying "stand back and stand by."
The plaintiffs also accused Trump of stoking his supporters' anger during a speech near the White House on January 6. After a crowd that included members of the Proud Boys, the Oath Keepers and the Three Percenter movement charged in the Capitol, the lawsuit charges Trump did not attempt to quell the violence. It claims he instead repeated election lies and told the rioters he loved them in a video released two hours after security was breached on the Capitol.