Capitol Police Union Mourns Off-Duty Death of 'Selfless' Officer Who Responded to Riot
Politicians and law enforcement personnel are grieving the loss of Howard Liebengood, a Capitol Police officer who served more than 15 years and worked alongside the agency's Senate Division, following his death on Saturday. Liebengood was 51 years old and passed away while off-duty. Tributary messages circulated throughout the day on Sunday, after Capitol Police confirmed the news of his passing. The agency did not provide information about his cause of death.
"We extend our deepest sympathies to Officer Liebengood's family and we mourn the death of a friend and colleague who worked alongside us to protect the lives of the Members of Congress, their staff and all who served at the U.S. Capitol," wrote the USCP Labor Committee, a union that represents Capitol Police officers, in a statement sent to Newsweek on Sunday afternoon. Gus Papathanasiou, the union's chairman, described Liebengood's "selfless service" as exemplary in additional remarks.
"We are still reeling from the death of Officer Liebengood," Papathanasiou said in the union's statement. "Every Capitol Police Officer puts the security of others before their own safety and Officer Liebengood was an example of the selfless service that is the hallmark of USCP. This is a tragic day."
Liebengood was the son of Howard S. Liebengood, a veteran, former Senate sergeant-at-arms, political lobbyist and chief of staff to two senators before his death in 2005. He was one of the officers involved in the response to last Wednesday's riots on Capitol Hill, when thousands of President Donald Trump's supporters stormed the federal complex during a violent siege. Another Capitol Police officer, Brian Sicknick, passed away on Thursday as a result of injuries sustained amid the attack.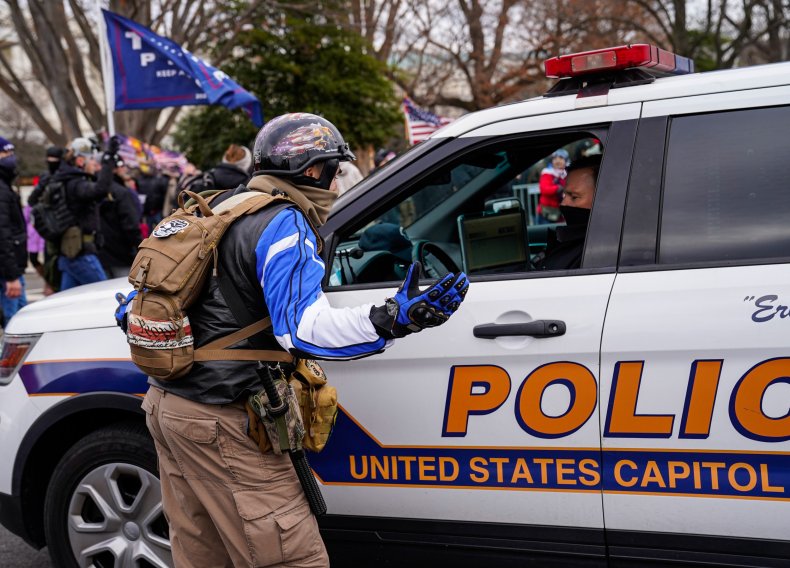 The Capitol Police shared preliminary details related to Liebengood's passing in a press release issued earlier on Sunday.
"The United States Capitol Police is deeply saddened by the off-duty death on January 9, 2021, of Officer Howard Liebengood, age 51," the release read. "We ask that his family, and other USCP officers' and their families' privacy be respected during this profoundly difficult time."
U.S. House Representatives Dean Phillips of Minnesota, and Jennifer Wexton of Virginia also shared messages to social media commemorating Liebengood's life and offering condolences to his loved ones.
"Our officers need more than gratitude. They need authentic, capable leadership and meaningful support, and I call on my colleagues to join me demanding it immediately," Phillips wrote on Twitter.
"Officer Liebengood served with USCP for 15 years, continuing a family tradition of protecting the U.S. Senate," Wexton added in her own tweet. "He was my constituent. My heart breaks for his family, his loved ones, & our community."
Virginia Senator Mark Warner thanked Liebengood for his service in an additional post. "My thoughts and prayers go out to his family and friends," the congressman wrote. "May he rest in peace."
A White House proclamation late Sunday ordered all public buildings, embassies, consular offices and U.S. military properties to display the American flag at half-staff in honor of both Liebengood and Sicknick. The flag will also fly at half-staff outside the White House through sunset on Wednesday.
Newsweek reached out to Capitol Police for further comment but did not receive a reply in time for publication.