Capitol Police Union Reveals Cops Suffered 'Brain Injuries,' Loss of Eye After Pro-Trump Riot
The Capitol Police Officers' Union—the group representing police officers within the US Capitol Police (USCP) force which protects the federal congressional grounds in Washington D.C.—has accused the USCP leadership of leaving officers unprepared for the January 6 insurrection. As a result, the union said, officers suffered "brain injuries", a lost eye and other injuries.
On Tuesday, USCP chief Yogananda Pittman said in a closed-door briefing with the House Appropriations Committee that the department was unprepared despite knowing at least two days beforehand about the strong potential for the Capitol to be targeted with violence. Pittman said the department "failed to meet its own high standards" in its handling of the riots.
Though Pittman was not the acting chief at the time of the riots—Steven Sund was, and he resigned on January 7—the union said her admission "angered and shocked" its members. The union said the leader's failure to adequately warn and equip officers with a plan was "inexcusable", "unconscionable" and resulted in one officer's death and other serious injuries.
"Between USCP and our colleagues at the Metropolitan Police Department, we have almost 140 officers injured," union chairman Gus Papathanasiou said in a statement released Wednesday. "I have officers who were not issued helmets prior to the attack who have sustained brain injuries. One officer has two cracked ribs and two smashed spinal discs. One officer is going to lose his eye, and another was stabbed with a metal fence stake."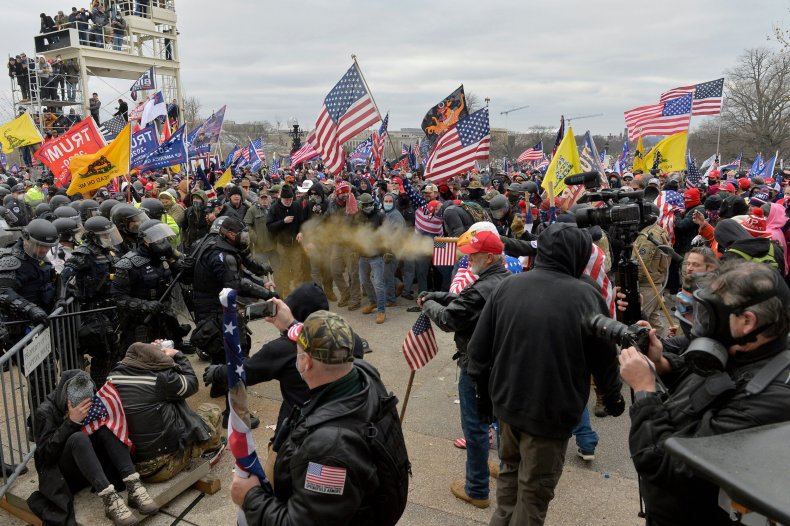 "This was not a 'whole Department' failure, but a leadership failure," Papathanasiou wrote. "The officers are angry, and I don't blame them The entire executive team failed us, and they must be held accountable. Their inaction cost lives."
He also said that the department's new leadership should be chosen from its lower ranks rather than hired from outside the department.
During Tuesday's hearing, Pittman said that the 1,200 officers at the Capitol were "no match" for the tens of thousands of insurrectionists that eventually overtook them. Pittman also said that officers have been experiencing PTSD (post-traumatic stress disorder) and an increase of coronavirus infections as a result of the insurrection.
On January 4, Chief Sund requested the Capitol Police Board to declare a state of emergency and authorize a request for additional troops from the National Guard, according to The New York Times. However, the board denied Sund's request.
When the riots started and Sund asked the board for backup from the National Guard, it took over an hour for the board to fulfill the request. This was because the commander of the D.C. National Guard, Major General William J. Walker, required additional approval from the Pentagon before he could dispatch such forces.
Newsweek contacted the USCP for comment.