Capitol Rioter Accused of Destroying Media Equipment Identified Through YouTube Videos
A Capitol rioter accused of destroying media equipment was arrested in Austin, Texas on Monday after being identified through YouTube videos.
Zvonimir Joseph Jurlina has been charged with destroying property in a special jurisdiction and aiding and abetting, as well as committing an act of physical violence on Capitol grounds, according to an affidavit released by the U.S. Attorney's Office for the District of Columbia.
Prosecutors allege that Jurlina was part of a crowd that assaulted a media staging area shortly before 5 p.m. on Jan. 6. Members of the press were forced to flee as the large crowd moved past metal barricades and began destroying cameras, tripods, shades and other remote broadcasting equipment.
"Numerous members of the crowd yelled inflammatory rhetoric against the members of the media," the affidavit read.
One member of the press said their news organization had $30,000 to $40,000 worth of equipment destroyed, the affidavit said.
The Federal Bureau of Investigation (FBI) posted photographs of the media stage assault and asked for the public's assistance in identifying the individuals involved.
FBI agents identified Jurlina through a 12-part series of live-stream videos he posted to YouTube from the U.S. Capitol on Jan. 6.
According to the affidavit, Jurlina allegedly kicked or stomped on equipment and assisted in an attempt to set it on fire. Prosecutors also accuse Jurlina of verbally encouraging theft of the media tools abandoned by the press and taking a microphone as a "souvenir."
In one video investigators found on YouTube, Jurlina was reportedly recorded saying, "Yo boys we got...this, this is our f***ing shit" as participants of the media stage attack were seen stomping on a camera.
Later in the video, prosecutors said Jurlina could be heard saying, "This is reporter Zykotik coming to you live. We are, haha. This is the real news media network. We have taken over. This is mother f***ing America first. This is how we do it. No more f***ing around."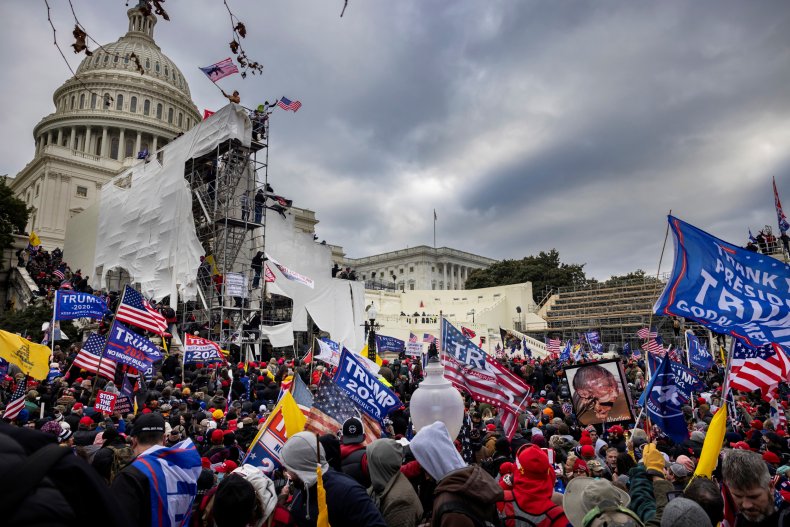 More than 500 people have been arrested so far in connection with the Capitol insurrection, Attorney General Merrick Garland announced last week. Garland said the tally of arrests includes 100 people who have been charged with assaulting a federal law enforcement officer.
"Our efforts to bring criminal charges are not possible without the continued assistance of the American public," Garland said in a statement. "To date, we have received more than 200,000 digital tips."
FBI Director Christopher Wray said his agency still has hundreds of ongoing investigations and is considering several serious charges.
"This is far from over," Wray told lawmakers during a hearing on Capitol Hill on June 23.
An attorney for Jurlina isn't listed on the affidavit. Newsweek reached out to the Department of Justice for additional information but didn't receive a response before publication.