Capitol Rioter Arrested After Officer Beaten, Dragged Into Mob With Hockey Stick
Federal officials apprehended a man wanted for beating an officer with a hockey stick during the deadly January 6 riot at the U.S. Capitol.
Michael Joseph Foy of Michigan was arrested and faces five federal charges, including assaulting a Metropolitan Police Officer who was dragged into a mob of rioters.
Days after the riot, the FBI received a tip on Twitter in the form of a single image of a man carrying a hockey stick outside one of the Capitol doors. Upon further investigation, the FBI was able to identify Foy as the individual who was seen in videos "aggressively" swinging a hockey stick at the officer on the ground. Foy allegedly raised the stick above his head in celebration, according to authorities.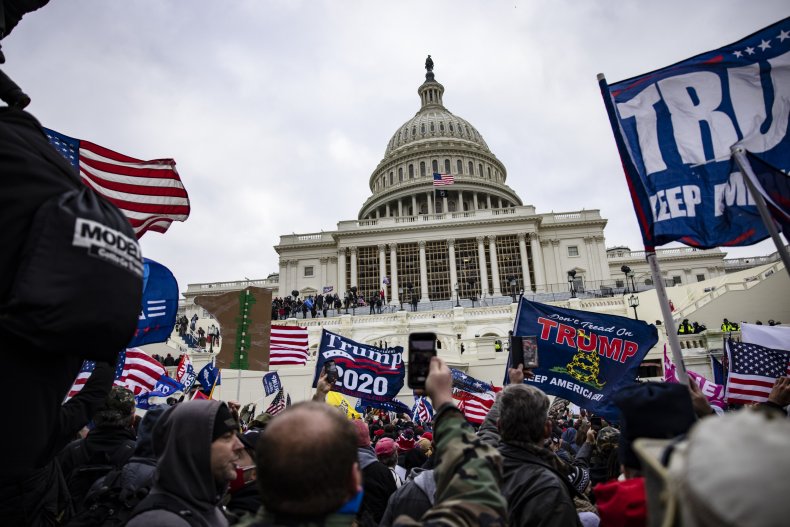 In a video posted on YouTube, Foy allegedly motions and shouts to another individual in the crowd and appears to say, "Let's go," while pointing at the Capitol building. Fifteen minutes later, he is seen crawling through a broken window of the building, according to the Department of Justice.
Foy is one of about 100 people who have been arrested since the attack. He was charged with entering a restricted building, obstruction of law enforcement, assaulting a police officer, aiding and abetting and obstructing an official proceeding of Congress, according to a criminal complaint.
The day before Foy was arrested, the Department of Justice announced the arrest of Patrick Edward McCaughey III, a Connecticut man accused of pinning an officer against a door with a police riot shield. Peter Stager was also charged for allegedly beating an officer with a flag pole.
Steven D'Antuono, assistant director in charge of the FBI's Washington Field Office, encouraged rioters to turn themselves in instead of waiting to be arrested. He said the "full weight of the FBI" was behind the effort.
"You attack one of us, you attack us all," D'Antuono added.
Five people were killed from the insurrection—in which a mob, many of whom were wearing pro-Trump apparel— breached security, while legislators debated the validity of Arizona's electoral votes. As a result of the violence at the time, Congress halted the debate over Arizona's electoral votes Legislators reconvened that night to continue the process after the riot was quelled. Early the next morning, former Vice President Mike Pence certified Joe Biden's win in the presidential election.
Two weeks after the assault, Biden stood on the same Capitol steps and took the oath of office. He mentioned the attack multiple times during his speech and contrasted the violence with his inauguration.
"So now, on this hallowed ground where just days ago violence sought to shake this Capitol's very foundation, we come together as one nation, under God, indivisible, to carry out the peaceful transfer of power as we have for more than two centuries," the president said.