Capitol Rioter Arrested For Allegedly Charging at Police With Taser, Assaulting Officer
A Pennsylvania man accused of charging at police officers with a taser during the January 6 insurrection has been arrested.
Alan William Byerly was apprehended Wednesday and charged with assault, assaulting a federal officer, violent entry on Capitol grounds, knowingly entering or remaining in a restricted area without lawful authority and engaging in physical violence.
Prosecutors allege that Byerly was involved in two attacks during the Capitol riot: one on an officer and another on a member of the news media.
Video footage captured Byerly in a crowd of violent protesters assembled near an established police line on the west terrace of the Capitol grounds. Members of the U.S. Capitol Police force and Metropolitan Police Department were staving off attempts by the rioters to breach the barricade of bike racks and assault officers, according to a criminal complaint by the FBI.
At approximately 2:10 p.m., Byerly allegedly activated a stun gun and proceeded to charge at the officers. The affidavit said the man was "seemingly unprovoked" and the "electric charge of the taser was clearly audible."
Officers were heard on video yelling "taser!" and were able to remove the weapon from Byerly's hands. But prosecutors say he kept charging toward officers, physically striking them and pushing them. At one point, the complaint said, Byerly attempted to take a baton from one of the officers.
Officers attempted to restrain Byerly but he was able to flee with help from another rioter.
Before clashing with police, prosecutors say Byerly was also involved in the assault of a member of the press. The victim was dressed in all black with a lanyard with Associated Press lettering and was carrying at least one camera.
Byerly was allegedly involved in pushing and shoving the victim with three other rioters after another group of people had pulled him down a set of stairs.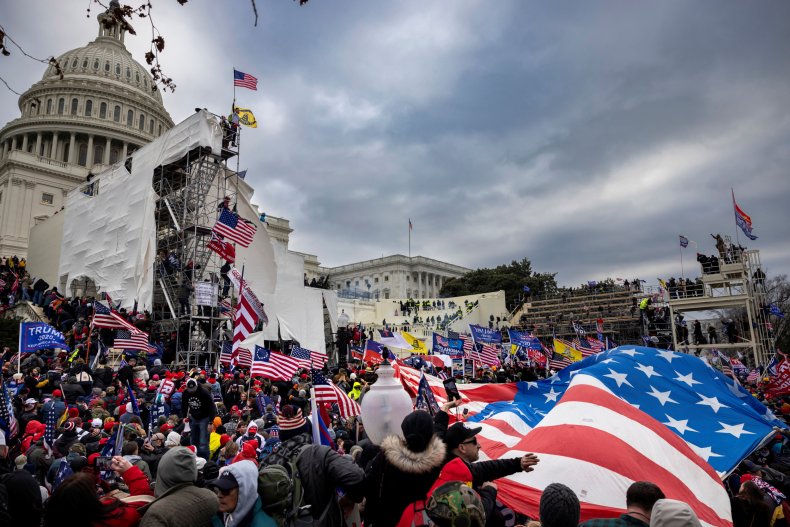 The FBI received a tip helping to identify Byerly after posting photographs of him online. The riot footage revealed a white male with shoulder-length graying black hair, wearing a "Kutztown" beanie and neon yellow "safety" long sleeve shirt under a black jacket.
On April 5, a witness called the FBI Threat Operations Center and identified Byerly as the man in the photographs. The witness said he lived in the Blandon or Fleetwood area of Pennsylvania and frequented the business where they worked.
After the call, investigators found phone records revealing Byerly's cellular device was present in Washington D.C. on January 6.
More than 500 people have been arrested so far in connection with the Capitol insurrection, Attorney General Merrick Garland announced last month. At least 100 people have been charged with assaulting a federal law enforcement officer.
"Our efforts to bring criminal charges are not possible without the continued assistance of the American public," Garland said in a statement on June 24. "To date, we have received more than 200,000 digital tips."