Capitol Rioter Arrested for Allegedly Pushing Officer Down Stairs
A Kansas man was arrested and charged with several federal offenses after he allegedly pushed a Capitol Police officer down a set of stairs during the January 6 riot at the U.S. Capitol.
Michael Eckerman, 37, of Wichita, was arrested on Monday and charged with assaulting, resisting or impeding certain officers; obstruction of an official proceeding; and disorderly conduct in the Capitol building, according to the U.S. Department of Justice (DOJ).
Eckerman is accused of pushing his way to the front of a crowd outside of the crypt in the Capitol building, where he yelled at officers. He allegedly pushed one officer back several feet, causing the officer to fall down a small set of stairs, which allowed rioters to move further inside the building, according to court documents.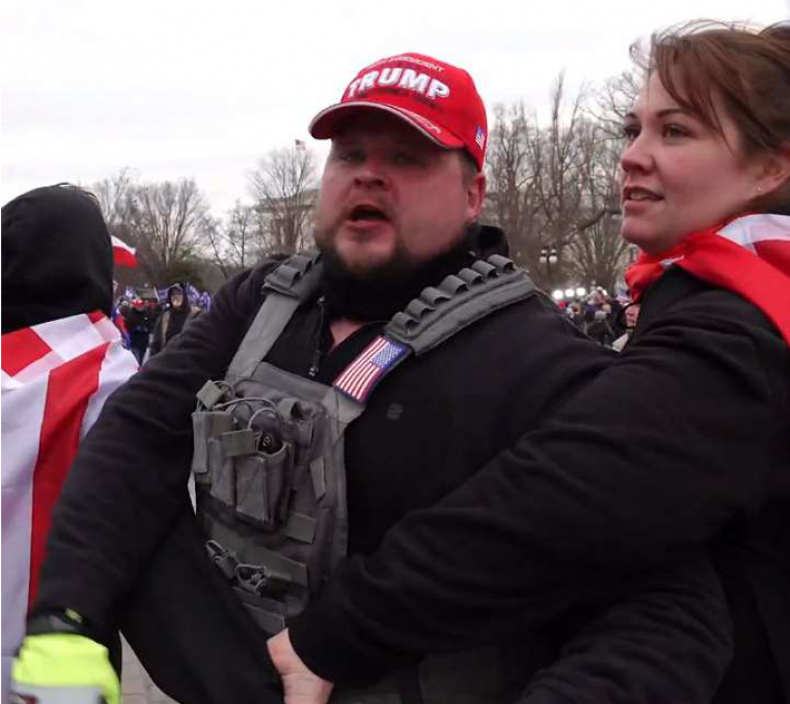 He made his way to the Statuary Hall on the second floor and began pushing through another group of officers, allegedly yelling at them for "several minutes." Once he got through the line of officers, Eckerman went through the House of Representatives side of the building, into the Rayburn reception room, according to the court documents.
Eckerman then exited the Capitol through the upper house doors.
Video evidence captured by the FBI on January 6 revealed that Eckerman may have also been in the room when Lt. Michael Byrd fatally shot rioter Ashli Babbit. Byrd was found to be acting within department policy.
According to the FBI report, the footage shows Eckerman "near the back entrance to the House Chamber, where Ashli Babbitt was shot by a law enforcement officer as she attempted to climb through one of the doors where glass was broken out to access the House Chamber. Just after the shooting, video captures Eckerman and his companions exiting the Capitol through the upper House doors at approximately 2:44."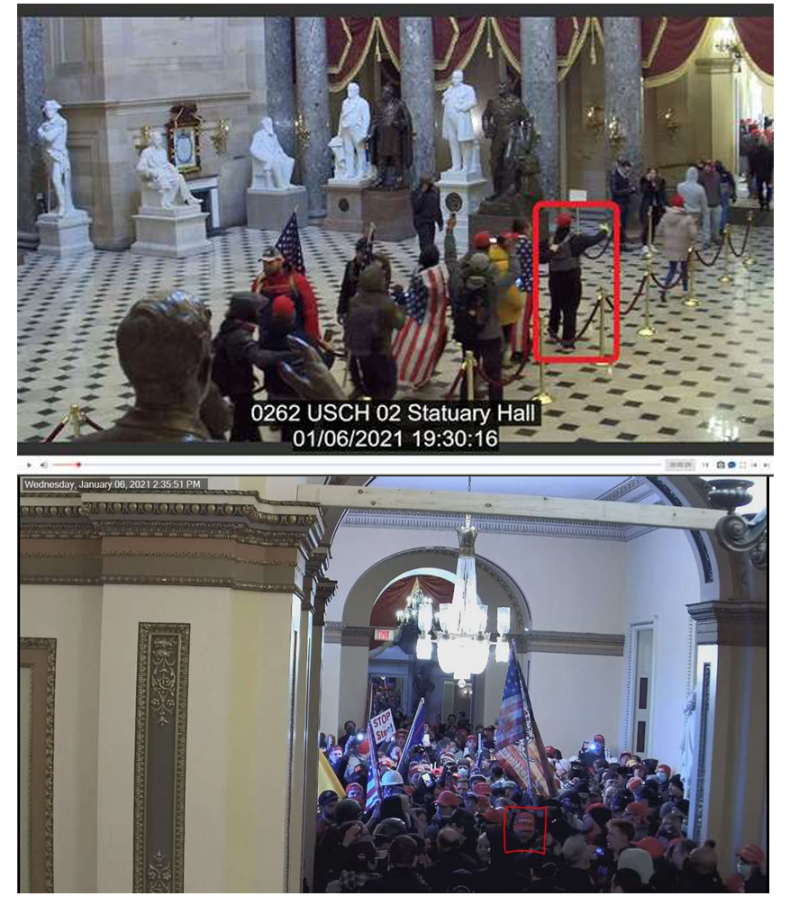 Eckerman discussed what he saw during the insurrection in an interview with FreedomNews.tv.
"I don't know her (Babbitt's) name, all I know is we went there as patriots. She is dead because we're here. These mother f*ckers are traitors, they are f*cking traitors!" he shouted in the interview.
His companions can be seen pulling him away from the camera, according to the FBI, and one of two witnesses who reported Eckerman said they were told that he was just several feet away from Babbitt when she was killed.
One of the witnesses was able to identify Eckerman in a photo he shared with friends that allegedly showed him posing in front of George Washington's portrait while wearing a load-bearing tactical vest and red Trump hat in the Capitol, the FBI said.
Since January 6, more than 600 people have been arrested from nearly all 50 states for crimes related to the breach of the U.S. Capitol, with at least 185 individuals charged with assaulting or impeding law enforcement, according to the DOJ. The investigation remains ongoing.