Capitol Rioter Charged After Texting Selfie to Girlfriend's Brother at State Department
Thomas Fee, a retired New York City firefighter, surrendered to authorities Tuesday after he sent video evidence of his participation in the Capitol riot to a State Department agent.
After President Donald Trump gave remarks at a Stop the Steal rally in Washington, D.C., his supporters descended upon the U.S. Capitol building. Members of Congress were certifying President-elect Joe Biden's election victory when the riot began.
An affidavit from the Joint Terrorism Task Force explained that Fee had shared a post on his girlfriend's Facebook page, confessing to her that he was present at the riot. His girlfriend's brother, a State Department agent, saw the post and asked the suspect directly through text message about his involvement in the riot.
The suspect said he had stormed the Capitol and shared with the agent photos and videos placing him at the scene. The agent then turned the evidence in to authorities.
In one video, members of the pro-Trump mob can be heard yelling the word "tyranny," and the last name of Democratic House Speaker Nancy Pelosi.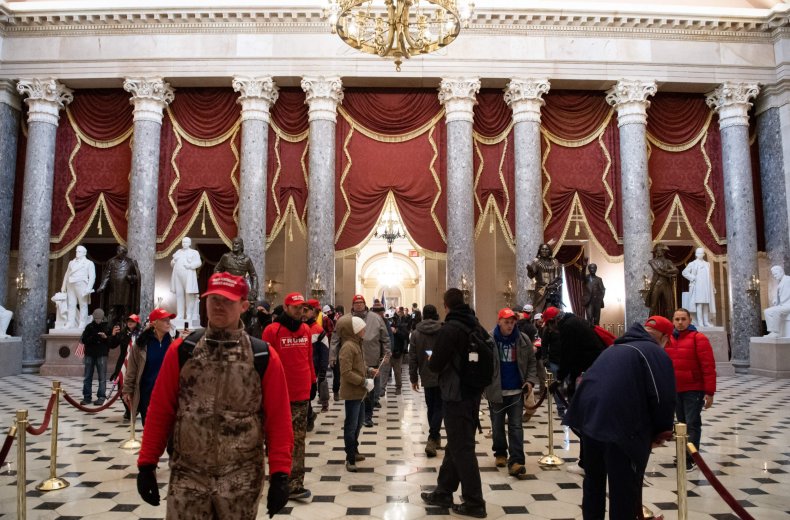 After a crosscheck with New York's Department of Motor Vehicles, authorities tentatively matched Fee's driver's license photo to footage taken from the riot.
Fee was charged on Monday with disorderly conduct and entering a restricted building. He turned himself in to authorities on Tuesday.
"Thomas Fee is alleged to have illegally made his way into our Nation's house," wrote FBI New York Assistant Director in Charge William F. Sweeney, Jr. in a Tuesday statement. "Today, we invited him into ours. Fee surrendered to the FBI early this morning at our Long Island office."
Fee was released on $100,000 bond and ordered to turn over three of his personal firearms. Newsweek reached out to the FBI for further comment.
Over 100 individuals have been arrested in connection with the riot, which left 5 people dead. Some of those taken into custody were well-known figures in right-wing extremist circles.
Alt-right figure Tim "Baked Alaska" Gionet was arrested in Houston, Texas on Saturday for participating in the riot. Gionet livestreamed the riot on a gaming website after having been banned from major social media platforms.
According to an affidavit posted by the Department of Justice, Gionet can be seen in the livestream rejecting refusing an officer's request to leave. Gionet could also be heard saying, "Patriots are in control."
A January criminal complaint filed in the United States District Court for the District of Columbia alleged that Gionet entered a restricted building or ground without lawful authority and engaged in "violent entry and disorderly conduct on Capitol grounds."