Capitol Rioter Demands Court Pay $5 Million If He Is 'Forced to Give Bodily Fluids'
A man accused of participating in the January 6 insurrection at the U.S. Capitol is representing himself in court and has reportedly demanded to be paid $5 million if he is asked to provide samples of "bodily fluids."
Eric Bochene, 49, recently fired his public defender and is now representing himself while demanding millions of dollars in payment, according to The Post-Standard. The New Hartford, New York man reportedly cited the cost of court fees and payments that he believes would have gone to his court-appointed attorney—although public defenders typically do not rake in millions of dollars for defending a single client.
Bochene is said to equate representing himself in court to doing "business" and is demanding a fee of $10,000 per 30-minute court appearance, or $50,000 if the appearance is "under duress." For each hour of research, he says the court must pay him $500, or $50,000 under duress.
The largest fees, all due within 15 days of invoice, are penalties— reportedly $6 million to be paid if he believes there was an attempt to forge a signature or, bizarrely, $5 million for an unexplained "forced giving of bodily fluids."
"You want to do business with me? ... These are my prices," Bochene told the paper. "I don't think there's any evidence that a man can be forced to labor and spend time without compensation... I'm representing myself, so a lot of work gets put into this."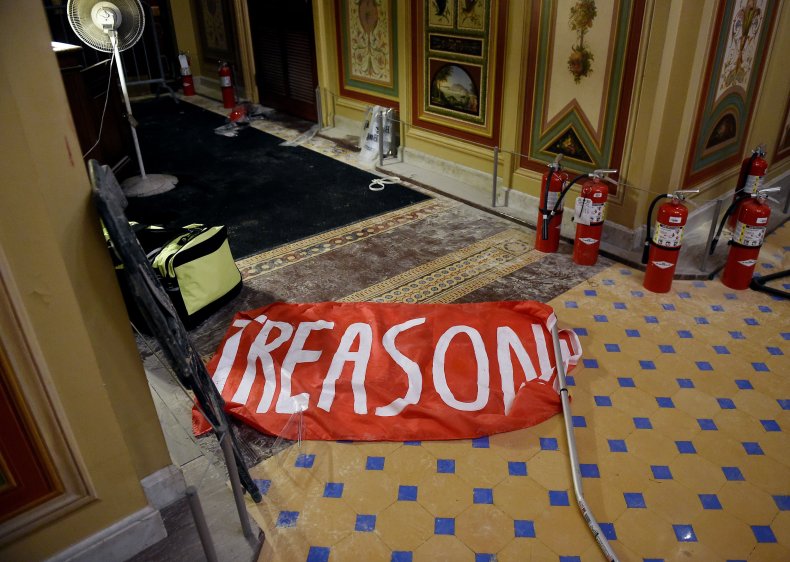 Bochene admitted to the paper that he was inside the breached Capitol but insisted he was only there as an independent journalist. He is facing charges of violent entry and disorderly conduct on Capitol grounds and unlawfully entering or remaining in a restricted building or grounds. A judge allowed him to fire his public defender during a virtual hearing last Thursday, according to the Rome Sentinel.
A court-filed official statement of facts from a New York State Police officer working with the FBI Joint Terrorism Task Force indicates that Bochene also admitted to law enforcement that he was inside the Capitol on January 6. Multiple photos appear to show Bochene inside the building with a group of other rioters that included "QAnon Shaman" Jacob Chansley.
Court documents include a WeChat message allegedly between Bochene and a person who later tipped off authorities, featuring Bochene boasting that he had recorded "video evidence" of himself inside the building and insisting that it was "all a false flag."
"Insurrection act signed last night," the alleged message from Bochene to the tipster reads. "Leftistbtrash are being executed right now."
The court document also asserts that Bochene shared video of himself inside the Capitol with law enforcement officers who interviewed him at his home on March 10.
Despite the message referring to political executions and the Capitol rioters largely supporting former President Donald Trump's false claims that the 2020 election was "stolen" from him, Bochene reportedly claims that he has no political agenda or allegiance to Trump.
Bochene is currently free on bond and his case is awaiting a status conference on October 29. He told the Post-Standard that he is uncertain whether he will participate in further hearings if the court does not take the unprecedented step of giving in to his demands for millions in payment.
Public defender John Gilsenan confirmed to Newsweek that he is still standby counsel for Bochene but declined to comment any further.