A Pennsylvania man awaiting sentencing following a guilty plea for his role in the January 6, 2021, Capitol riot, has died of what his family said in his obituary was "of a broken heart."
The Mercer County Coroner's office said that Matthew Perna, 37, died by suicide last week in his home, according to the Pittsburgh Post-Gazette. His family said in the obituary that the constant delays of hearings and other postponements within the justice system "killed his spirit."
He pleaded guilty to four charges in December and was set to face a sentencing hearing next month, the Post-Gazette reported.
Perna's picture was publicized by the FBI, including two screenshots of video where he is seen inside the Capitol wearing a "Make America Great Again" hoodie, and days after two people who knew Perna contacted investigators about recognizing him, according to the Justice Department.
The pictures and videos of Perna inside the Capitol were supplemented with a video from his Facebook in which he and two other people introduced themselves, and he and another man said they "walked right into the Capitol building."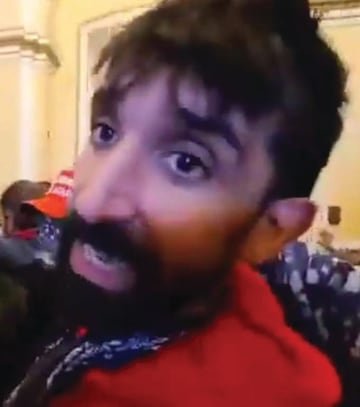 Matthew Perna, a 37-year-old Pennsylvania man, died by suicide last week of what his family said was a "broken heart" because of the slow nature of the justice system.
Justice Department
Investigators said the people who contacted them identifying Perna said his Facebook page also included several posts supporting former President Donald Trump and QAnon conspiracy theory.
On January 14, 2021, FBI agents met with Perna, and at the time he admitted to entering the Capitol but said it was "not his intention" and only entered after he and another man found a door that was already open and he was "pushed inside" by the crowd of people around him.
He was arrested days later, and eventually pleaded guilty in December to charges of entering and remaining in a restricted building and disorderly conduct in a restricted building, as well as obstruction of the certification of the election and disorderly conduct within the Capitol.
"He did not harm anyone, as he stayed within the velvet ropes taking pictures," his family said in his obituary. "For this act he has been persecuted by many members of his community, friends, relatives, and people who had never met him. Many people were quietly supportive, and Matt was truly grateful for them. The constant delays in hearings, and postponements dragged out for over a year. Because of this, Matt's heart broke and his spirit died, and many people are responsible for the pain he endured."
Perna was a graduate of Penn State University, and his family said he spent years living abroad in countries including Thailand and South Korea as an English teacher. They said he attended the rally to "peacefully stand up for his beliefs," and that he did not hate anyone based on race or beliefs.
If you have thoughts of suicide, confidential help is available for free at the National Suicide Prevention Lifeline. Call 1-800-273-8255. The line is available 24 hours every day.
Update 3/2/22, 12:44 p.m. ET: This story has been updated with additional information.