Capitol Rioter Donovan Crowl's Mom Tears Up As She Slams Trump for Abandoning Her Son
The mother of one Capitol rioter believes that her son could serve up to 20 years in prison, and that he would be 70 before getting released. JoAnn Rowe, who is recovering from leukemia, was shaky and quite emotional Sunday during a CNN interview. She also said former President Donald Trump "doesn't care" about the people who "stormed the Capitol for him."
Rowe's son is Donovan Crowl, a 50-year-old former marine who was one of the uniformed men who attacked the Capitol on January 6. Rowe said she has a hard time believing that her son did what he did, but an even harder time believing Trump "hasn't mentioned him since he's been out of the White House."
"I love the person that he used to be, but I despise the person that he is now," Rowe said of her son. "He's not my son, and I still have a hard time believing that he did what he did. If he gets 20 years in prison, he'll be 70-years-old before he gets out of there. Trump doesn't care about any of those people that stormed the Capitol for him. He doesn't care one iota about him. Hasn't mentioned him since he's been out of the White House."
Crowl belongs to the far-right militia group from Ohio called the Oath Keepers, which is typically comprised of former police, military and first responders. Oath Keepers was just one of many far-right groups that began a protest against the 2020 Presidential Election certification, in which Congress was inside to declare Joe Biden the winner over Trump.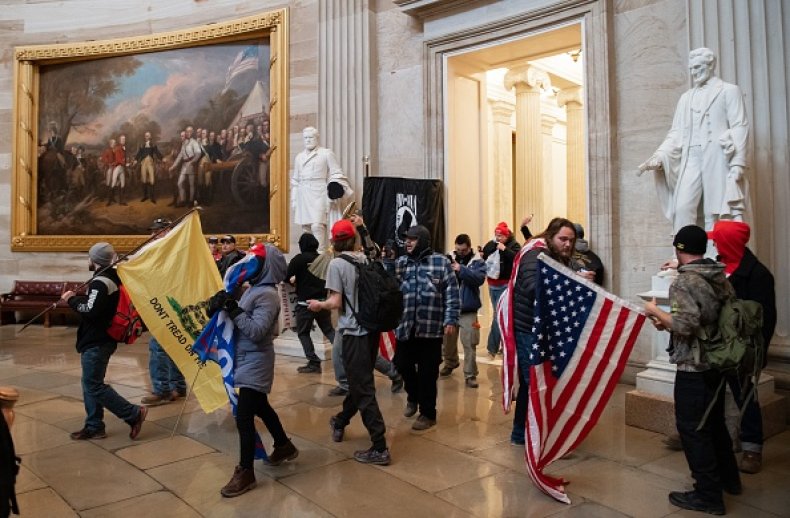 Groups outside the Capitol waved Trump flags and American flags. The mob grew restless, and they breached four lines of police defense to eventually penetrate the Capitol while Congress was in session. Members of both the House and Senate were evacuated, and Vice President Mike Pence was taken to safety inside the building.
The rioters made their ways up and down the Capitol halls, inside the offices of lawmakers and ultimately into the Senate chamber.
The rioters took selfies inside the building, took property from offices and wreaked havoc. In all, there have been 120 arrests and four people died during the incident.
Though Congress reconvened and certified the results to name Joe Biden the 46th President of the United States, things didn't end there. While the investigations churned and arrests were being made, Democrat lawmakers urged top Republicans to resign over "inciting violence" at the Capitol. Investigations are still ongoing.
Crowl was one of the members who made it inside to the Capitol rotunda. He was wearing a tactical vest, a combat helmet and ballistic goggles. Crowl served in the Persian Gulf in 1990 aboard a naval amphibious assault ship as one of the helicopter mechanics, according to The New Yorker.