Capitol Rioter Loses Bid to Delay Sentence to Fulfill 'Holiday Obligations' to Children
Rasha Abual-Ragheb, who pleaded guilty to her role in the Capitol riot, will have to spend the holiday season under home confinement after a judge rejected her request to delay her sentence until the new year.
Abual-Ragheb warned "Civil War" is coming after the Capitol riot and was sentenced to 36 months probation, the first two being served in home detention. Abual-Ragheb sought to delay her sentence until January 1 so she could move to a new home and "handle her holiday obligations as a mother to her children."
The government opposed delaying her sentence and Judge Carl Nichols denied her request. Nichols noted that the conditions of Abual-Ragheb's probation doesn't bar her from seeking a new residence during her period of home detention.
Newsweek reached out to Elita Amato, Abual-Ragheb's attorney, for comment.
Abual-Ragheb pleaded guilty to one count of parading, demonstrating or picketing in a Capitol building. Prosecutors pushed for a sentence of 30 days in jail because of her "violent rhetoric" before, during and after the January 6 riot.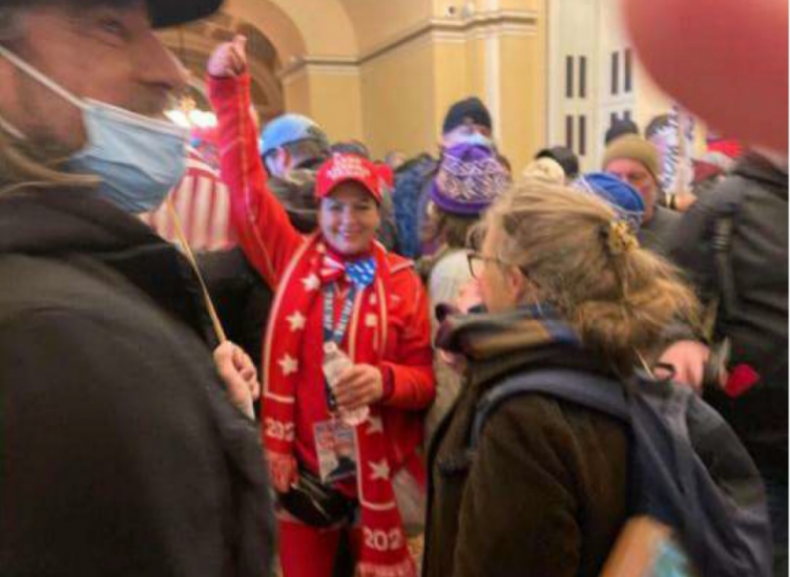 She encouraged people to "rise up" ahead of the Capitol riot and to "bring your own guns," to the January 6 rally, according to court records. "It's Trump or Civil War," she posted on social media two days before the riot.
After the riot, she posted a photo of herself inside the Capitol alongside the caption that she "made history." Despite comments that America was headed for a civil war and that Abual-Ragheb would be "happy to be a part of it," Amato previously told Newsweek her client was "not prepared for a civil war nor intended to be a part of one."
In a court filing, Amato wrote that Abual-Ragheb, the mother of three, including two minor children, believed "stories about people's kids being taken by elected Democrat officials." She posted on social media that someone would have to "kill her before taking her children away."
As the sole provider for two school-aged children, Amato argued that sentencing her to prison time would leave no one to care for the kids. After her arrest, her children were "ostracized and bullied at school," according to court filings, so she started to home-school them.
While prosecutors acknowledged that her having sole custody of the kids leaned in favor of a sentence that would keep her out of prison, they argued that jail time was needed to deter future behavior.
During her sentencing hearing, Nichols said he found she was genuinely remorseful and that he had "every expectation" that she will not protest in the Capitol again or commit other crimes. But, he agreed with prosecutors that there needed to be a deterrent so he doubled the amount of probation that was recommended.