Capitol Rioter Richard Barnett, Who Put Feet on Pelosi's Desk, Seeks Freedom to Attend Car Show
An attorney for 60-year-old Richard Barnett, the man photographed while allegedly invading House Speaker Nancy Pelosi's office on January 6, is asking a federal judge to extend his travel restriction in order to attend a car show.
The Gravette, Arkansas native had previously been denied bond and was jailed for four months on eight federal charges stemming from the U.S. Capitol riot. Barnett was photographed allegedly stealing Pelosi's mail and placing his feet on her desk as other pro-Trump supporters ransacked the office. Barnett's attorneys are now asking that he receive more freedom to travel in order to attend the 63rd Annual Petit Jean Show and Swap Meet in Arkansas.
After his initial arrest on January 28, federal prosecutors say Barnett called himself a nationalist and was prepared for a violent death. He also apparently attempted to dispose of clothing, a cell phone and guns before investigators arrived at his Arkansas home.
During a Tuesday hearing, Barnett's lawyer requested that his client's home detention travel radius be extended from 50 miles to between 200 and 250 miles so he can attend the car show on Petit Jean Mountain in Morrilton, Arkansas, this week. Northwest Arkansas' local 40/29 TV station reported Tuesday that the lawyer argued Barnett needs to travel for work so he can pay bills and provide for his family.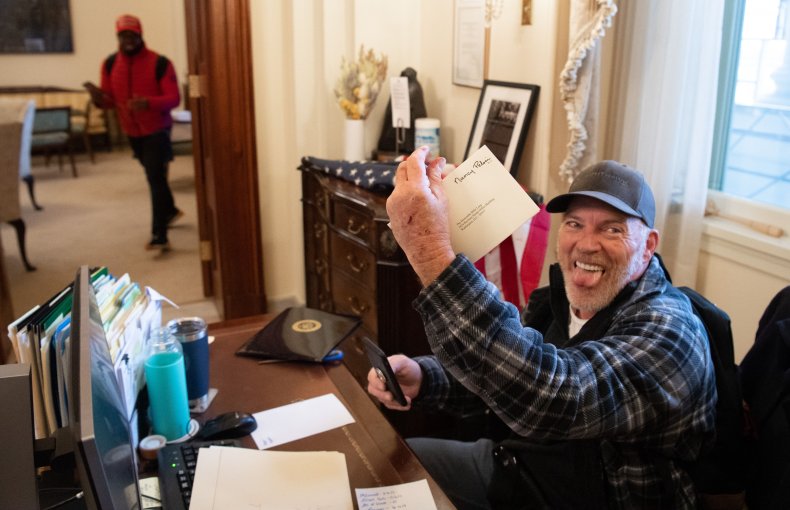 The distance from Barnett's Gravette home to the Museum of Automobiles, where the car show is being held, is about 180 miles or a three-hour drive.
Barnett was released from jail in April by a federal judge who cited an appeals court decision which makes it harder to detain riot defendants who are not accused of any acts of violence.
A federal grand jury indicted Barnett on eight charges earlier this year, following the Capitol riots: Obstruction of an official proceeding; Aiding and abetting; Entering and remaining in a restricted building or grounds with a deadly or dangerous weapon; Disorderly and disruptive conduct in a restricted building or grounds with a deadly or dangerous weapon; Entering and remaining in certain rooms in the Capitol building; Disorderly conduct in a Capitol building; Parading, demonstrating, or picketing in a Capitol building; Theft of government property.
Federal prosecutors claim Barnett left a note for the top House Democrat which read, "Hey Nancy, Bigo was here, b***h," although his defense denies this accusation.
Barnett is currently on home detention as he awaits trial, which includes location monitoring supervision by Pretrial Services.
Newsweek reached out to attorneys representing Barnett against the swath of federal charges Tuesday afternoon but did not hear back by the time of publishing.