Capitol Rioter Running for Congress Says His Arrest Will Help Campaign: 'Any Attention Is Good'
Jason Riddle, a New Hampshire man who stole and drank wine while participating in the January 6 Capitol insurrection, has said that his related arrest will likely help his campaign to run for Congress.
"In the long run, if you're running for office, any attention is good attention, so I think it will help me," Riddle said, according to WBTS.
Riddle said that after his name was made public following his arrest, people began sending him death threats as well as encouragements to run for office.
"[My arrest] tells them I show up," Riddle said. "I'm going to actually keep my promises and make some changes."
It's unclear whether or not Riddle has formally filed to run for office. If he runs, he could compete against Republican primary candidates and possibly the Democratic incumbent, Ann McLane Kuster. Kuster has represented the congressional district since 2013. She received 53.9 percent of the vote in 2020.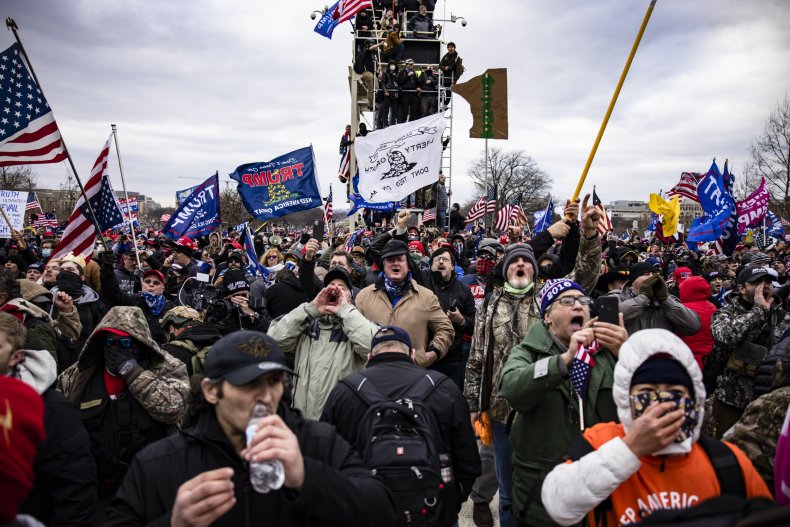 Riddle was arrested in February after admitting to the FBI and local TV stations that he stole a bottle of wine from a lawmaker's office cabinet during the January 6 riots. He said he poured himself a glass of wine during the insurrection and "watched it all unfold" before he "chugged it and got out of there." He gave local news stations a picture of himself holding the wine bottle while inside the Capitol.
When questioned by FBI agents, Riddle said that he also stole a small football branded by Fox News from the same office where he stole the wine. He said he threw the football away while exiting the building. He also admitted to stealing a leather-bound book of Senate procedures before selling it to a man outside of the Capitol for $40.
After participating in the insurrection, Riddle admitted to removing some messages, photos and videos of the riot from his phone. He described their removal as a "delete frenzy."
When investigators seized Riddle's phone on January 22, it had several images of himself inside and outside the Capitol. The images included one of him holding the wine bottle and another of the Senate procedure book.
Riddle said he visited the Capitol on January 6 because he believed Republican former President Donald Trump's baseless claim that an unprecedented nationwide conspiracy of voter fraud "stole" the 2020 election from him. Several other Capitol riot arrestees have also said they invaded the Capitol because they believed Trump's repeatedly disproven claim.
However, Riddle denounced the rioters who committed violent acts inside the federal building.
"Those psychopaths going around breaking things and hurting people can rot in hell," he told WYCN-LD. "It definitely is not what it was supposed to be about. It wasn't getting anything accomplished."
Riddle has been charged with knowingly entering a restricted building, violent entry and disorderly conduct on Capitol grounds and theft of government property, according to a criminal complaint.
Newsweek contacted the New Hampshire Republican Party for comment.