Capitol rioter Brian Christopher Mock was charged with assaulting a federal officer on January 6 after allegedly bragging about "beating the s***" out of a cop.
On Friday, Mock, 42, of Minneapolis, was arrested for federal offenses in connection to the breach of the U.S. Capitol, including assaulting, resisting or impeding certain officers; obstruction of law enforcement during civil disorder; and acts of physical violence in any of the Capitol buildings, according to the Department of Justice (DOJ).
Court documents show that Mock was seen on bodycam footage "repeatedly assaulting multiple law enforcement officers who were trying to protect the building from rioters" on the lower west terrace of the Capitol building.
At around 2:30 p.m. on January 6, Mock was allegedly seen "shoving a Capitol Police officer (USCP) to the ground while another rioter grabbed the officer's legs and Mock kicked the officer as he lay on the ground," according to the DOJ.
Mock then allegedly shoved another USCP officer to the ground, before passing multiple USCP riot shields back to other violent rioters.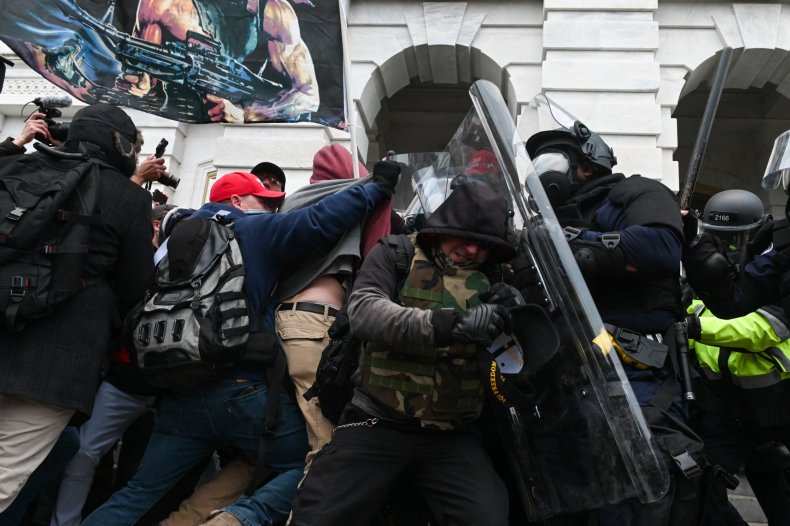 In charging documents, FBI investigators tied Mock to the riots with testimonies from at least eight witnesses. Witness 8, who was unnamed, told investigators that Mock allegedly said "he 'beat the s***' out of a police officer." The investigator also noted that the witness showed officials text messages from Mock, where the suspect admits he participated in the riot.
Mock shared a statement to Facebook on January 8 indicating that he was prepared to lose his life or freedom in the riots.
"I went to the Capitol not knowing what to expect but said goodbye to my 4 children, not sure if I was going to come home," he wrote, according to charging documents. "I was at peace with that knowledge."
Mock's case is being prosecuted by the U.S. Attorney's Office for the District of Columbia and the Department of Justice National Security Division's Counterterrorism Section.
Mock participated in the riot with his girlfriend, who later allegedly wrote about the experience on Facebook.
"Teargassed 6 times, pepper sprayed, and mustard gassed at the end. But we stayed true to being Patriots, marched to the Capital [sic] and stormed the Frontline ... no regrets ... ashamed of the blue that harmed everyone there to stand for the cause," she wrote in a post that tagged Mock's profile, according to charging documents.
Roughly 465 individuals have been arrested on charges related to the insurrection since January 6, including more than 130 individuals charged with assaulting or impeding law enforcement, according to the DOJ.
Newsweek reached out to the Department of Justice for further information. This story will be updated with any response.