Capitol Rioter Warned Pelosi, Schumer to 'Back Off' Because 'We Will Do It Again'
After leaving the Capitol building during the January 6 riot, Andrew Griswold, a Florida man, bragged about forcing legislators to hide and issued a warning that he was open to mounting another insurrection.
Griswold was arrested on Friday for breaching the Capitol on that day as Congress met to certify President Joe Biden's Electoral College victory—one of more than a hundred people charged for their alleged role in the insurrection. A recently unsealed complaint alleges Griswold was photographed on the Senate floor after it was evacuated.
In a video posted on Twitter about an hour after footage depicted him entering the Capitol, Griswold brags that rioters were able to overrun security forces.
"We took the building. They couldn't stop us. And now they know we can do it again and we will f****** do it again," Griswold says, according to the complaint.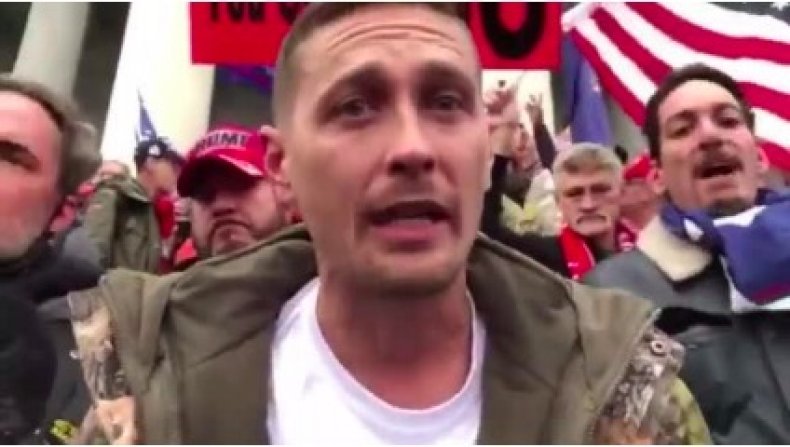 He went on to tell House Speaker Nancy Pelosi, Senate Majority Leader Chuck Schumer and "all you m*f*s" to "back off" because "this is our country, we are willing to do whatever it takes to keep it."
"We showed em' today," Griswold says. "We took it. They ran. And hid."
Newsweek reached out to Griswold's attorney for comment, but did not receive a response in time for publication.
As rioters breached security, the Senate and House floors were evacuated and former Vice President Mike Pence and Pelosi were rushed to a safe location, as they were second and third in line to the presidency. Other legislators hid in the balcony of the House floor or hunkered down in offices, and many were urged to put on gas masks.
During former President Donald Trump's impeachment hearing, House managers played clips of members of Congress recounting their experiences during the riot, with some saying that they were sending text messages to their loved ones in the event the worst happened.
Republican Senator Lindsey Graham, who voted against convicting the former president, condemned the rioters in the aftermath of the insurrection. He also wondered how the riot was able to take place 20 years after the terrorist attacks on September 11, 2001, calling it "mind boggling" how it could occur.
"Yesterday, they could have blown the building up. They could have killed us all. They could have destroyed the government," Graham said at the time.
The lawmaker wasn't alone in his criticism of security officials and others expressed concerns that it showed how vulnerable America's Capitol is to the rest of the world.
Griswold turned himself into authorities on Friday and was released on the conditions that he obey all laws, cooperate with DNA sample collections, and appear in court. Authorities seized his cell phone, but agreed to return it to him as long as he doesn't object to the images on it being used against him at his trial.