Capitol Rioter Who Recorded 'Chilling' Video Sentenced to 41 Months in Prison
On Wednesday, a federal judge sentenced Scott Fairlamb, who pleaded guilty to assaulting a police officer at the Capitol riot, to 41 months in prison, a slightly less severe sentence than prosecutors sought.
Fairlamb was captured on video shoving and punching an officer outside the Capitol on January 6. Facing 30 years in prison, Fairlamb pleaded guilty to obstructing an official proceeding and assaulting an officer, two of the 12 charges against him, and prosecutors asked the judge to sentence him to 44 months in prison.
Ahead of the sentencing, Fairlamb addressed the court, calling his behavior "irresponsible" and "reckless."
"I've had 10 months to replay everything from that day ... I take full responsibility for what I did that day. I want you to know that is not who Scott Fairlamb is. I truly regret my actions that day. I have nothing but remorse," Fairlamb said. "I hope you show some mercy on me, sir and let me get back to living my life as a proud man."
Judge Royce Lambert said Fairlamb made the right decision to plead guilty and called the remorse he showed in the courtroom "sincere." However, he said the crimes Fairlamb committed were "so severe" he couldn't go below the sentencing guidelines, which ranged from 41 months to 51 months in prison.
"You couldn't have beat this if you went to trial based on the evidence I saw," Lambert said, encouraging others to plead guilty, as well.
The government argued Fairlamb wasn't entirely remorseful for his participation in a riot that threatened the peaceful transfer of power after the 2020 presidential election and resulted in more than a million dollars' worth of property damage.
After the riot, he filmed a video of himself saying, "they pulled the pin on the grenade, and the blackout is coming. What a time to be a patriot." Leslie Goemaat, an assistant United States attorney, described the video as "chilling."
Fairlamb also said he would "go again" to the Capitol after being visited by FBI agents in the wake of the riot.
Prosecutors allege Fairlamb attended former President Donald Trump's "Stop the Steal" rally before going to the Capitol, where he climbed scaffolding surrounding the building. After crossing the line police were attempting to hold against the crowd, Fairlamb picked up a police baton and posted a video of himself saying, "What patriots do? We f***in' disarm them and then we storm the f***in Capitol!"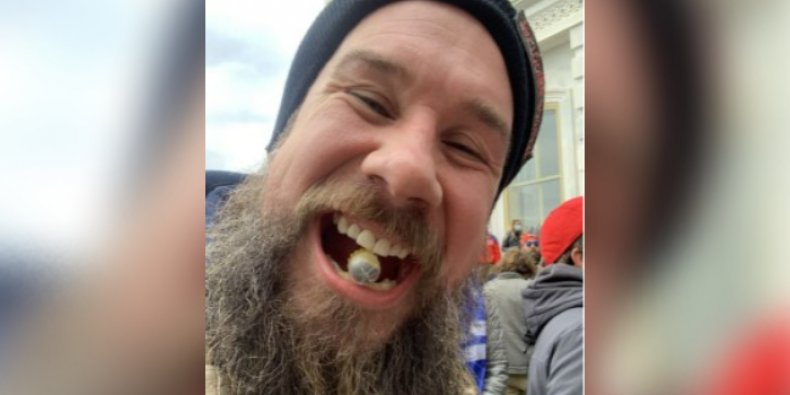 At one point during the riot, Fairlamb took a photo with an undetonated pepper ball in his mouth that police fired into the crowd. Goemaat played some of the videos and photos taken at the Capitol on January 6 during Wednesday's sentencing hearing.
Although Fairlamb entered the Capitol, his attorney, Harley Breite, argued in court documents that he wasn't the first to do so and didn't damage anything while attempting to gain access to the Capitol building. He also argued that Fairlamb didn't intend to engage in violence when he traveled to Washington, D.C., because he didn't bring any weapons with him.
After exiting the Capitol, Fairlamb was caught on camera in an encounter with Capitol police officers who were trying to keep rioters from entering through the Parliamentarian door. Fairlamb said he offered the officers water and to help them leave the area.
Officers weren't wearing body cameras at the time, but an officer told the FBI a similar story about a man, adding that the man led them to the north door so they could get into the building. Multiple officers also said a man was telling other people to leave the officers alone. Footage from outside the Capitol also appears to corroborate Fairlamb's story, according to court documents.
However, prosecutors allege about 20 minutes later after Fairlamb claims he helped officers, he assaulted one. While officers tried to make their way through the thick crowd, Fairlamb reportedly shoved an officer and punched him in the face.
"Are you an American? Act like a f***ing one! . . . You guys have no idea what the f**k you're doing!" Fairlamb allegedly shouted at the officers.
Goemaat classified the physical assault as "swift" and "violent" and a signal of his training as an amateur mixed martial arts fighter and boxing coach.
Fairlamb encouraged people to join him at the riot ahead of the January 6 violence and believed that Trump would be reinstated as president on March 4, according to court documents.
Breite asked the judge in court documents to sentence his client to 11 months, essentially adding up to time served since he's been in prison since January 22, when he was arrested at his New Jersey home. Breite took issue with the government's assertion that the criminal offense of the Capitol rioters is "unparalleled in history," noting the American Revolution of 1776.
"Through this country's entire history, political demonstration, often violent in nature, has marked important epochs in the growth of this country," Breite wrote. "And while that in no way is meant to condone the actions of my client on January 6, 2021, there is, however, a long history of recognizing the need for forgiveness towards those who transgress the law while protesting federal authority."
Breite urged the judge to be lenient on his client, arguing that his actions during the Capitol riot shouldn't define his life. He also described his client as "unquestionably sincere" when he expressed remorse during a talk with the FBI in August and wished to apologize directly to the officer.
"Epiphanies are rare but it certainly didn't take Mr. Fairlamb long to realize that his previous line of thinking was incorrect. It certainly didn't take Mr. Fairlamb long to feel remorse and regret," Breite wrote in a sentencing memo.
Fairlamb also agreed to speak with the House Select Committee investigating the January 6 attack, according to Breite.
Along with his 41 months in prison, Lamberth sentenced Fairlamb to 36 months of supervised release.