Dawn Bancroft, 59, who reportedly said she was looking to harm Speaker of the House Nancy Pelosi during the Capitol riots, has agreed to plead guilty to misdemeanor charges in connection with her involvement in the January 6 insurrection.
Hundreds of people have been charged in the Capitol riot and many have decided to plead guilty instead of face a lengthy legal process. On Tuesday, Bancroft changed her plea to guilty, accepting that she was guilty of one of the four charges she initially faced.
"I would like to accept my responsibility for what I did, for my part in January 6," Bancroft told Judge Emmet Sullivan.
Bancroft entered the Capitol through a broken window, according to court documents, and told FBI agents she was only inside the building for about 30 seconds. While attempting to exit the Capitol, Bancroft allegedly filmed herself saying she and Diana Santos-Smith, another woman charged in the riot, "broke into the Capitol" and "did our part."
"We were looking for Nancy to shoot her in the friggin' brain but we didn't find her," Bancroft said in the video, according to a criminal complaint.
Sullivan called the comment about murdering Pelosi "clearly troubling," "horrible," and "outrageous" and questioned why it didn't rise to the level of a threat. Prosecutor Patrick Murphy said they decided not to charge her with a threat because she said it while walking away from the Capitol, a "very fortunate" occurrence for Bancroft, according to Sullivan.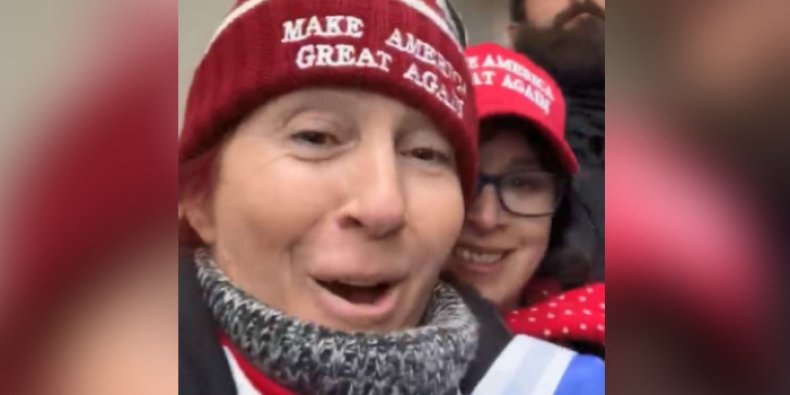 When asked why she made the comment, Bancroft told Sullivan it was "very stupid" and was not true at the time.
"I said it in a stupid, jovial way," Bancroft said. "It was a dumb, stupid comment. I did not mean it."
Bancroft admitted to an FBI agent that she knew they were entering restricted grounds when she entered through the Capitol window and that she deleted the video she took inside. She also told the FBI that she told her children to delete the video from their phones as well.
Charged with entering and remaining in a restricted building, disorderly or disruptive conduct, disorderly conduct in a Capitol building, and parading, demonstrating or picketing in a Capitol building, Bancroft faced potentially more than a year in prison if found guilty on all of the charges.
While some of the defendants in the Capitol riot case were confined to prison until their trials, Bancroft was granted release. However, she was required to remain away from Washington, D.C., except for court business, possess no illegal firearms and not travel outside the United States without approval.
More than 80 of the over 600 people charged in the Capitol riot have pleaded guilty, according to the Philadelphia Inquirer. Most faced similar charges to Bancroft, but their guilty pleas could bode well for prosecutors. A massive undertaking for the Department of Justice, fewer trials for defendants with lesser violations takes some work off their plate, and in more significant cases, it could provide them with cooperative defendants.
Bancroft pleaded guilty to parading, demonstrating and picketing in a government building, a misdemeanor that comes with a sentence of six months in jail. As part of her plea, she must turn over her social media accounts to the government, according to Sullivan, who noted that she may receive less than six months in jail.
Although a misdemeanor offense, Sullivan explained that the guilty plea will follow Bancroft throughout life, potentially making certain aspects of life more difficult. He also advised Bancroft that she will have to explain why she made the comment about killing Pelosi at her sentencing.
"I understand what I did. It was not right. I realize there are consequences for my action. It's something I teach my children ... I am guilty and I'm going to take the consequences for what I did," Bancroft said.