Capitol Rioter 'Yankee Patriot' Charged for Threats to 911 Dispatcher After Making 143 Calls
Jonathan Munafo, a 34-year-old suspect in the January 6 Capitol riots who reportedly goes by the alias "Yankee Patriot", has been charged with allegedly making 143 calls and violent threats to a 911 dispatcher.
On January 5, Munafo allegedly made 143 calls to the Calhoun County 911 line in Michigan. He reportedly identified himself as "Yankee Patriot" and tied up the line for over three hours. The FBI said he threatened to maim, kill and attack the dispatcher and her family unless she connected him to a deputy sheriff or sergeant.
Munafo accurately recited the dispatcher's tax and mortgage information and claimed to know where she lived, the FBI said.
"Put a f*cking cop on the phone now you stupid bitch, or it's going to go way worse for your family!" he allegedly told the dispatcher. "Bitch, I'm gonna cut your throat. I'm gonna make you eat your f*cking nose."
"I'm gonna hurt you bad for this," he reportedly continued. "It won't be today, it won't be tomorrow, it'll be f*cking soon though, you stupid c*nt. Insurrection Act, I'm coming to your door first and it's public knowledge, you stupid, stupid bitch!"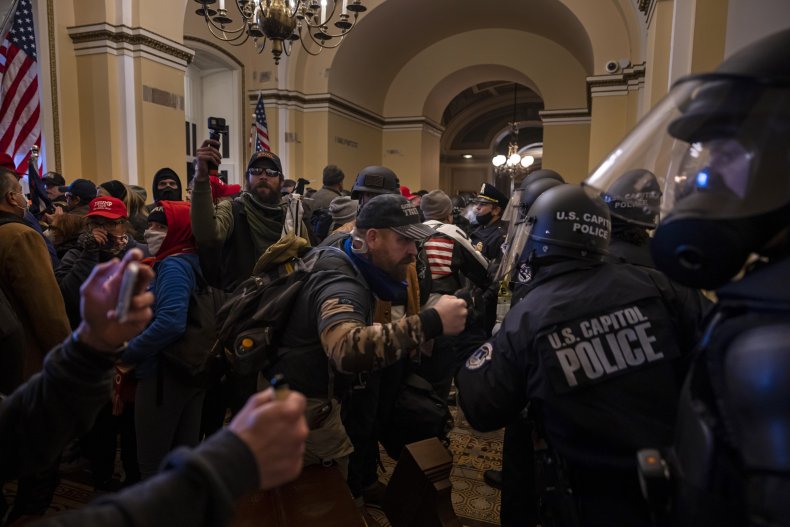 He allegedly placed the calls from a truck stop in North Carolina using an internet dialing service. Investigators reportedly identified him using information obtained through the web services that Munafo used.
Munafo already has 10 charges against him connected to his alleged role in the January 6 Capitol riots. The charges included violent entry and disorderly conduct. During the riots, he allegedly used a wooden flagpole to try and break a Capitol window, federal officials said.
Before the riots, on January 4 and 5, he allegedly conducted online searches for "Gretchen Whitmer," "Freedom Plaza, Washington DC" as well as guns and military surplus, according to MLive.com, a Michigan news site.
Munafo was also accused of threatening to shoot a motorist at a rest stop near Salisbury, Massachusetts on September 14. Court documents said his car was covered in "Trump" stickers. On September 22, he allegedly called an emergency line for the Massachusetts State Police 21 times, using vulgar language to say that he shouldn't be punished for the rest stop incident.
Munafo is currently incarcerated in a Florida jail, facing charges in multiple states.
In connection to the Michigan 911 incident, he faces two charges of interstate threatening communication and one charge of interstate harassing telephone calls, MLive.com reported. If found guilty of all charges, he would face up to 12 years in prison.
Newsweek contacted the FBI for comment.