Capitol Rioter Yells in Court, Tells Prosecutors 'Drop All Charges' or Make 'Counteroffer'
Zach Alam, an accused Capitol rioter, is looking to represent himself in court and, working as his own attorney, made an offer to the court to drop the charges against him or have prosecutors "make me a counteroffer."
Alam allegedly entered the Capitol on January 6, screamed "f--- the blue" in a police officer's face and smashed the glass pane of the door that Ashli Babbitt attempted to climb through before being fatally shot. Facing 11 charges and more than 40 years in prison, Alam claimed prosecutors would be unable to prove their case, but requested a plea offer anyway.
At Wednesday's hearing, Alam repeatedly said he wanted U.S. Attorney Candice Chiu Wong to offer him a deal and told her to "start doing her job," according to NBC4 Washington reporter Scott MacFarlane. Judge Dabney Friedrich informed Alam that prosecutors weren't required to offer him a deal, but Wong said she was "happy to start that process."
Alam responded that the prosecutor should "consider it requested now" and then made an offer of his own. He told the court that "all charges" against him should be dropped or they could "make me a counteroffer."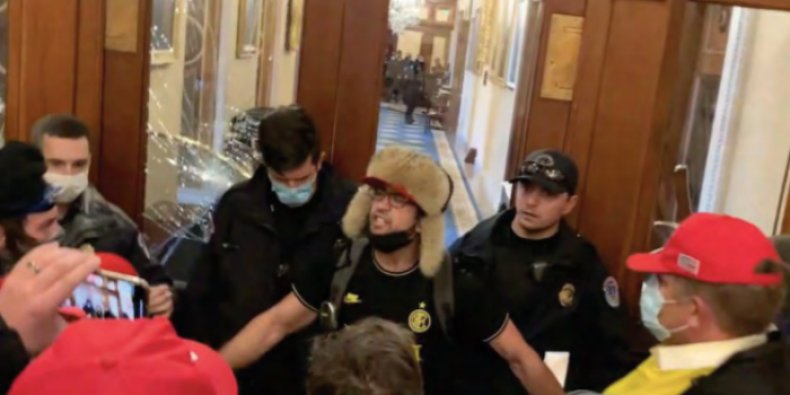 One of the hundreds of people who have been charged in connection with the Capitol riot, prosecutors allege that Alam started kicking the glass panels of the Speaker's lobby door "seconds" after officers guarding the door moved to an adjacent wall. He then took another rioter's helmet and "violently struck the idle glass panel repeatedly with the helmet," which ended up shattering.
Video of the riot showed Babbitt climbing through the window Alam allegedly shattered, at which point, officers fired a fatal shot at her. The officer's name hasn't been released but the Department of Justice announced it wouldn't pursue charges because there was insufficient evidence to support a criminal prosecution.
Babbitt's family has pursued legal action to obtain the name of the officer and has plans to file a wrongful death lawsuit. Branded as a martyr by some, prominent Republicans, including former President Donald Trump, have called for the officer to be held accountable for her death. Others have chalked her death up to one of the tragedies of that day.
When speaking with an unnamed family member who tipped off the FBI about Alam's involvement, the defendant said he was sorry for what he'd done but added he has no plans to turn himself in. He's been in jail since his initial appearance in February and Friedrich denied Alam's attorneys' request that he be released.
During Wednesday's hearing, Alam attempted to separate himself from his attorneys, yelling that he will "represent myself," before the judge entered the room. Friedrich warned Alam not to "speak for myself," the same advice a judge gave another defendant who sought to represent herself.
"I'm talking for myself," Alam said, according to MacFarlane. He added that his lawyer is "not talking for me," and told the judge, "I don't take your advice."
Ultimately, the judge delayed the hearing until August.
Newsweek reached out to Michael Lawlor, Alam's attorney, for comment but did not receive a response in time for publication.