Capitol Rioter's Attorney Calls Him 'Dumb***' Who Believed 'What He Heard on Fox News'
Anthony Antonio, who is accused of entering the Capitol during the riot, wasn't interested in politics before the 2020 election and as an impressionable young man, his attorney plans to argue in court that he was unduly influenced by Fox News.
More than 400 people have been charged in connection with the January 6 Capitol riot and patterns are starting to emerge in their defenses. Several have argued in court documents that they felt they were following former President Donald Trump's orders when they stormed the Capitol or that they were acting on the belief pushed by Trump that the election was stolen.
Attorneys have told Newsweek that the "blame Trump" defense isn't a strong one because in a trial, defendants will be held accountable for their own actions. Joseph Hurley, Antonio's lawyer, acknowledged to the Associated Press that misinformation is also "not a defense."
"But it will be brought up to say: This is why he was here. The reason he was there is because he was a dumb*** and believed what he heard on Fox News," Hurley said.
Antonio allegedly wore a tactical bulletproof vest adorned with a "Three Percenters" patch, a symbol of the militia group, according to court documents. He was arrested in Delaware on April 20 after officers received a tip that he was one of the people law enforcement was looking for in connection with the riot.
"You want war? We got war. 1776 all over again," Antonio said in a video from the riot.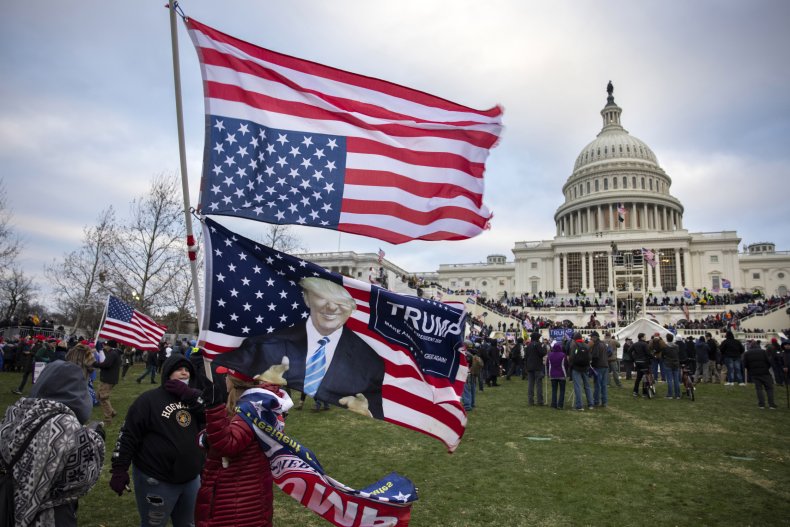 The 27-year-old is accused of squirting water and throwing a plastic water bottle in the direction of an officer who was being dragged down the Capitol stairs. During an interview with FBI agents, Antonio said he "locked eyes" with the officer and could see "death in the man's eyes," but didn't help him "when I should of."
He later told officers the riot wasn't"against" them "personally," but was "against our country" and apologized to them. Antonio was also seen in a video speaking into a bullhorn encouraging people to not "bum rush" him and others who were at the front of the line because they were "trying to work" with the officers.
At one point during the riot, Antonio climbed through a window into an interior room of the Capitol, according to court documents, and picked up a piece of broken furniture before exiting through the same window.
"We barricaded the door, broke everything, so we have something to use against 'em," Antonio said in an interview with VDARE, supposedly referring to police officers. "While we were in there, trying to come up with a plan, I was useless, I was useless so, I left."
Antonio became consumed by conspiracy theories that the election was rigged when the pandemic forced him to stay home, where he would watch Fox News with his roommates for hours, according to the Associated Press. He told the FBI he went to Washington, D.C., because Trump "told him to" and claimed to not know what was going on at the Capitol, which agents took as a referral to Congress certifying President Joe Biden's win.
"I kind of sound like an idiot now saying it, but my faith was in [Trump]," Antonio told the Associated Press.