Capitol Rioters Barred From D.C., Protesting, Ahead of Biden Inauguration
Security is ramping up in Washington D.C, ahead of President-elect Joe Biden's inauguration and judges across the country are barring Capitol rioters from venturing to the city, at times saying in no uncertain terms that they need to "stay away."
More than 40 people have been charged in federal court for their alleged role in the riot at the Capitol on January 6. While officials beef up security for the inauguration, including the authorization of mobilizing more than 20,000 National Guard members, the FBI continues its manhunt for people involved in the riot, and those who have already faced a judge are being warned not to violate the conditions of their release.
For three defendants—Cindy Fitchett, Mark Leffingwell and Robert Packer—those conditions include specific instructions to "stay away" from Washington, D.C., aside from court appearances.
Fitchett was arrested at the Capitol for unlawful entry and Packer, who was photographed wearing a "Camp Auschwitz" sweatshirt, was arrested a week later. Leffingwell, according to court documents, struck an officer in the helmet and the chest.
At least seven other defendants who have been released from custody pending their trials may only travel to D.C. for court-related matters.
Larry Brock, a former Air Force officer who was photographed carrying zip ties in the Capitol, was specifically prohibited from entering the building or being on the Capitol grounds. Thomas Gallagher, who's accused of throwing an "unknown liquid" at police officers, may not enter the District of Columbia prior to his court appearance on January 22, two days after Biden's inauguration.
Even if those charged for participating in the riot wanted to travel against the court order, they may face difficulty doing so.
The FBI is "actively looking" at adding Capitol rioters to the no-fly list, according to FBI Washington Field Office Assistant Director in Charge Steven D'Antuono. The no-fly list began in the wake of the 9/11 terrorist attacks and bars some people from boarding planes.
"The FBI will continue to nominate predicated subjects to the federal terrorism watchlist, as appropriate, ​in accordance with existing laws and policies," an FBI spokesperson told Newsweek. "The TSC will continue to evaluate all nominations to the watchlist to ensure they meet the required criteria for watchlisting."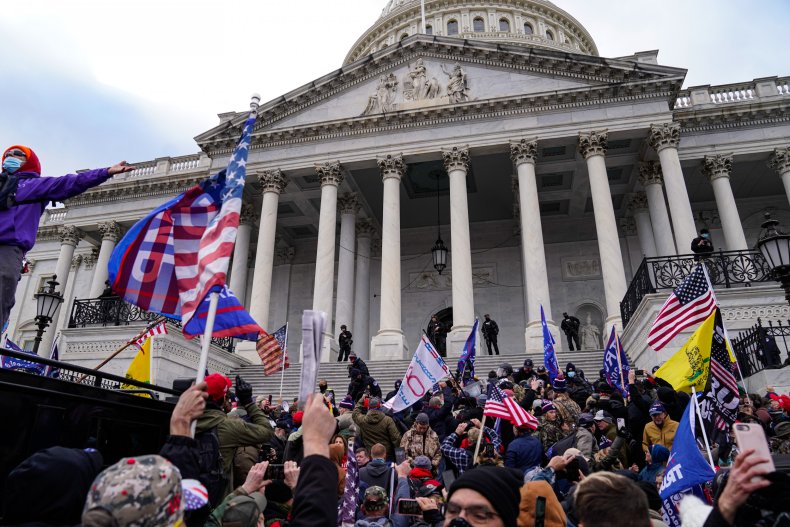 Five people, including a Capitol police officer, died as a result of the riot and top-ranking local law enforcement officials faced criticism for being ill-prepared for the violence that occurred. In the aftermath, significant efforts have been made to increase security for Biden's inauguration.
Already a scaled-back event because of the pandemic, officials further limited attendance to Biden's inauguration after the riot, prohibiting any public access. The National Mall will be closed through January 21st and over 20,000 National Guard troops will be on patrol in the area.
The FBI is seeing an "extensive amount of concerning online chatter" about potentially violent events surrounding the inauguration, according to FBI Director Chris Wray. At a briefing with Vice President Mike Pence, Wray said the bureau is tracking "calls for potential armed protests and activity leading up to the inauguration."
"We're concerned about the potential for violence at multiple protests and rallies planned here in D.C. and at state capitol buildings around the country in the days to come that could bring armed individuals within close proximity to government buildings and officials," Wray said.
State officials are preparing for the potential protests and violence and judges are putting the kibosh on defendants in the Capitol riots participation. Judges specifically barred at least three people from engaging in protests while out of custody. Thomas Robertson, Jacob Fracker and Kevin Loftus were all prohibited from participating in or joining in any "public assembly, demonstration or protest."
Robertson and Fracker, two off-duty police officers, shared a photograph of themselves in the Capitol but denied any wrongdoing. Robertson told WSET Capitol Police allowed them into the building through an open door, were given water and asked to stay within the roped areas.
"There was absolutely no indication that we were anything but welcome to check out certain places," Roberston said. "We did not participate in any violence or property damage."
Law enforcement is under pressure to hold people accountable for their actions on January 6 and Wray told Pence during Thursday's briefing they're taking the responsibility seriously.
"From January 6 alone, we've already identified over 200 suspects. So, we know who you are if you're out there and FBI agents are coming to find you," Wray said. "Wherever they scattered to ... what they're finding is we've got FBI agents tracking them down and arresting them."