Capitol Rioters Got Tougher Sentences in 2021 From Obama's Judges Than From Trump's
Capitol rioters who were sentenced by judges appointed by former President Donald Trump in 2021 were more likely to receive probation than those whose cases went before judges appointed by former President Barack Obama, according to data reviewed by Newsweek.
Partially skewing those numbers is the fact that four of the cases that came before Obama-appointed judges were felony cases, so it was unlikely for defendants to avoid jail. Trump-appointed judges have not sentenced anyone who pleaded guilty to a felony charge, yet. However, even without those cases, Obama-appointed judges handed down jail sentences more frequently than Trump-appointed judges.
Judges appointed by Trump or Obama sentenced 53 Capitol rioters over the past year, 49 of which pleaded guilty to misdemeanors. While judges have often credited Capitol rioters for accepting responsibility for their actions, it hasn't always spared them from prison, and the majority of defendants that went before Obama-appointed judges were sentenced to at least some jail time.
Nearly 60 percent of the 32 Capitol rioters who faced Obama-appointed judges this year received jail time, compared to the 20 percent of 21 Capitol rioters who were sentenced to jail by Trump-appointed judges.
Of the 49 Capitol rioters who pleaded guilty to misdemeanor charges, Obama-appointed judges handed down jail sentences in 57 percent of their 28 cases. Trump-appointed judges sentenced 19 percent of the 21 defendants appearing before them to jail.
The most common charge rioters pled guilty to over the last year is the misdemeanor charge of parading, picketing and demonstrating on Capitol grounds. Trump-appointed judges also seem to be more lenient on defendants facing these charges than Obama-appointed judges. They've only sentenced 24 percent of defendants facing that charge to time in prison, with the rest receiving probation. In contrast, Obama-appointed judges have sentenced 54 percent to jail.
Neama Rahmani, a former federal prosecutor and president of West Coast Trial Lawyers, told Newsweek that Republican-appointed judges tend to impose longer sentences than their Democratic-appointed counterparts, but the Capitol rioters aren't "typical cases" because they're political by nature.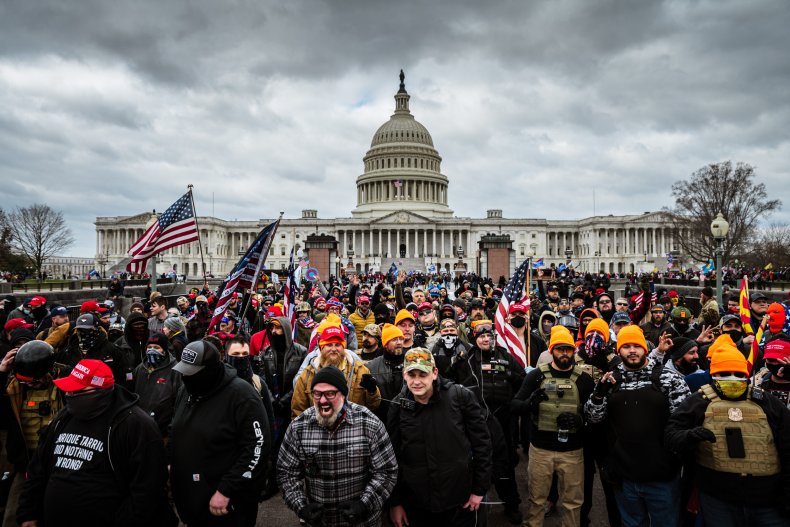 Judge Tanya Chutkan, an Obama-appointee who hasn't given probation to a single defendant, sentenced Matthew Mazzocco, who pleaded guilty to a misdemeanor, to more time behind bars than prosecutors requested. She gave him less credit for his early guilty plea, saying during the sentencing hearing that he only decided to express remorse for his actions after realizing he could face prison time.
"The country is watching to see what the consequences are for something that has not ever happened in the history of this country before, for actions and crimes that threaten to undermine the rule of law and our democracy," Chutkan said, referencing a need to deter others from engaging in similar behavior in the future.
Chutkan is one of just two judges to sentence defendants to harsher punishments than prosecutors requested and has done so in all but two of her cases. The other is Judge Thomas Hogan, a Reagan-appointee.
Defendants aren't the only ones being criticized during hearings and judges have turned some of their attention to prosecutors' handling of the Capitol riot cases. Judge Beryl Howell, an Obama appointee, questioned prosecutors' use of plea deals while arguing that rioters engaged in an insurrection. She criticized a sentencing memo for Jack Griffith that both called the riot an "unparalleled" assault on Democracy and "trespassing that got out of hand."
"Is it the government's view that the members of the mob that engaged in the Capitol attack on January 6 were simply trespassers?" Howell asked, according to The Washington Post. "Is general deterrence going to be served by letting rioters who broke into the Capitol ... resolve their criminal liability through petty offense pleas?"
Judge Trevor McFadden, a Trump appointee, rejected a rioter's request to be treated like Black Lives Matter protesters who were prosecuted in Portland, Oregon, on the basis they didn't have enough evidence to claim discrimination. However, he also told prosecutors that the federal government would have "more credibility if it was evenhanded in its concern about riots and mobs in this city."
Defense attorneys have seen how more than 70 plea cases have played out and trials are set to begin in early 2022. Julie Rendelman, a former prosecutor, said defense attorneys should "absolutely" be factoring who the judge is into whether they encourage their client to plead guilty or go to trial.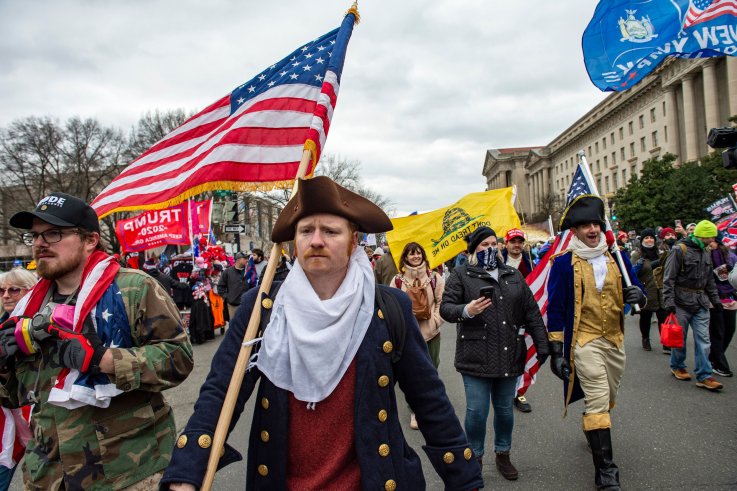 Trump-appointed judges gave prosecutors their requested sentences on only two occasions in Capitol riot case so far. Supporters of former President Donald Trump march through the streets of the city as they make their way to the Capitol Building in Washington D.C. on January 6.
Joseph Prezioso/AFP/Getty Images
"I think it is borderline malpractice for a criminal defense attorney to not learn about the judge presiding over their case when deciding the best course of action for a client," Rendelman said. "Are they harsh at sentencing? Do they give fair rulings during trials? While judges are supposed to be impartial, they are human beings with their own biases, prejudices, and sometimes political agendas that impact their decision-making."
Judges take multiple factors into account when issuing a sentence, including the severity of the crime and a defendant's criminal history and background. However, Trump-appointed judges have only given prosecutors everything they requested on two occasions.
Judge Carl Nichols sentenced David Mish to 30 days in jail, the length of time prosecutors asked for in a sentencing memo. During the sentencing hearing, Nichols noted Mish's lengthy criminal record indicated he didn't respect the law while acknowledging that he had a difficult upbringing.
He said he was "very torn" on sentencing because he didn't believe the Capitol riot would occur again or that Mish would participate in it if it did, but acknowledged the importance of general deterrence.
Nichols also gave Michael Curzio six months in jail as prosecutors wanted, making him one of two defendants to receive the maximum punishment.
Jens David Ohlin, dean and professor of law at Cornell Law School, told Newsweek that judges factoring in individual specifics of cases before issuing a sentence limit a defense attorney's ability to predict how a judge will rule in their client's case. Ohlin also noted that while rulings so far could indicate how a judge will rule in future plea cases, it's not necessarily indicative of how a judge could rule if a defendant is found guilty during a trial.
While one Capitol rioter–Robert Palmer–received nearly six years in jail after pleading guilty, defendants who have accepted plea deals have predominantly avoided jail time. More than half the defendants who were sentenced in 2021 were given probation. Of those who pleaded guilty to misdemeanor charges and received jail time, most defendants were sentenced to less than 45 days.
However, judges have warned defendants that haven't pled guilty they won't be as lucky because judges won't be as lenient.