Rep. Susan Wild Reflects on January 6 Trauma, 'Triggering' Trial Footage
Rep. Susan Wild has said that footage of the U.S. Capitol riots shown at the impeachment trial of Donald Trump has forced her to relive the trauma of January 6.
A photo of the Pennsylvania congresswoman being comforted by Rep. Jason Crow (D-CO) summed up the fear that lawmakers felt as pro-Trump rioters threatened to breach the chamber during the joint session of Congress to verify the election results.
Wild told CNN she was torn between calling her adult children and upsetting them, or missing the chance of having what might be her final conversation with them.
She added that she thinks the photo of her and Rep. Crow, which went viral, was taken after she had spoken to her children. She remembered "feeling an extraordinary sense of panic and feeling as though my heart was beating outside my chest."
"I remember Jason Crow reaching out and stroking my hand and I remember thinking to myself, 'How does he know I am so upset?' Seeing that picture really brought back to me just how awful those moments were," she told Cuomo Prime Time.
She said that in the five weeks since the attack, she had thrown herself into other issues to take her mind off the trauma, with congressional work on COVID relief a particular focus. However, as a result of the Trump impeachment proceedings, she had watched footage of January 6 that she had never seen before.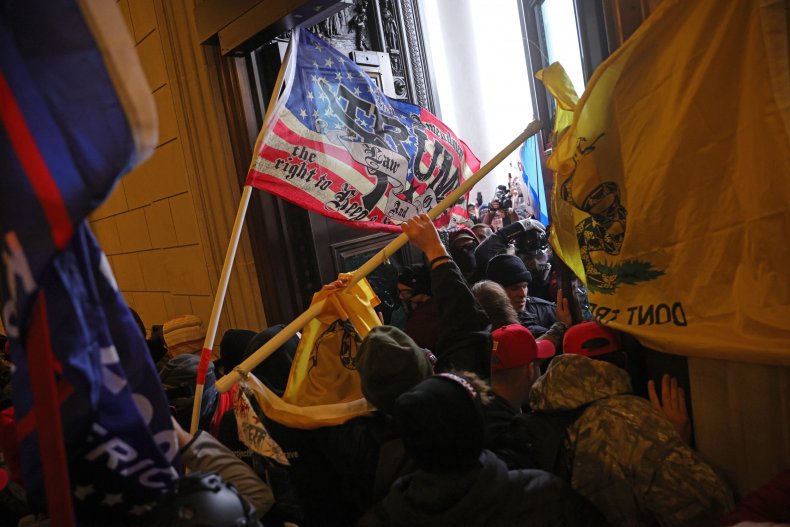 In presenting previously unseen video taken by security cameras during the riots, House impeachment manager Rep. Eric Swalwell (D-CA) told the Senate trial that only 58 steps separated the mob from members of Congress.
Wild told CNN: "I have never seen the incredibly graphic videos that we have seen and it's been very distressing, I have to say. It's triggering I guess is the right word."
During the segment, Cuomo read out a tweet from Wild's son, Clay Wild, posted at the peak of the violence, in which he implored: "Anyone responsible, just help cool this chaos."
Rep. Wild said: "It's very, very difficult as a parent to ever think you have caused your children any distress, even beyond your own control.
"So for me it was the distress, and still is by the way, that I know that my adult kids felt that day and have been feeling since."
Trump is on trial in the Senate for allegedly inciting the rioters. The graphic below provided by Statista outlines how the impeachment process works.