Capri Sun Recall: What Happens if Your Child Ingests Cleaning Solution
Capri Sun, a popular brand of juice, is the subject of a new recall due to contamination with a cleaning solution.
The Kraft Heinz Company on Monday announced a voluntary recall of a particular batch of Capri Sun juice pouch products. Over 5,700 cases of the brand's Wild Cherry Flavored Juice Drink Blend product became contaminated with a diluted cleaning solution that is typically used on the company's food processing equipment, according to a statement released by the company.
"The issue was discovered after we received several consumer complaints about the taste of the affected product," the statement said. "The Company is actively working with retail partners and distributors to remove potentially impacted product from circulation."
Kraft Heinz stressed that only the Wild Cherry flavor has been affected by the contamination. The specific batch that has been recalled can be identified using several pieces of packaging information listed by the company. This includes a "Best Buy" date of June 25, 2023. On cartons, the recalled batches have a UPC code of 0 8768400100 4, while on pouches that code will be 87684 00409 00. Specific manufacturing codes can also be found on the company's official site.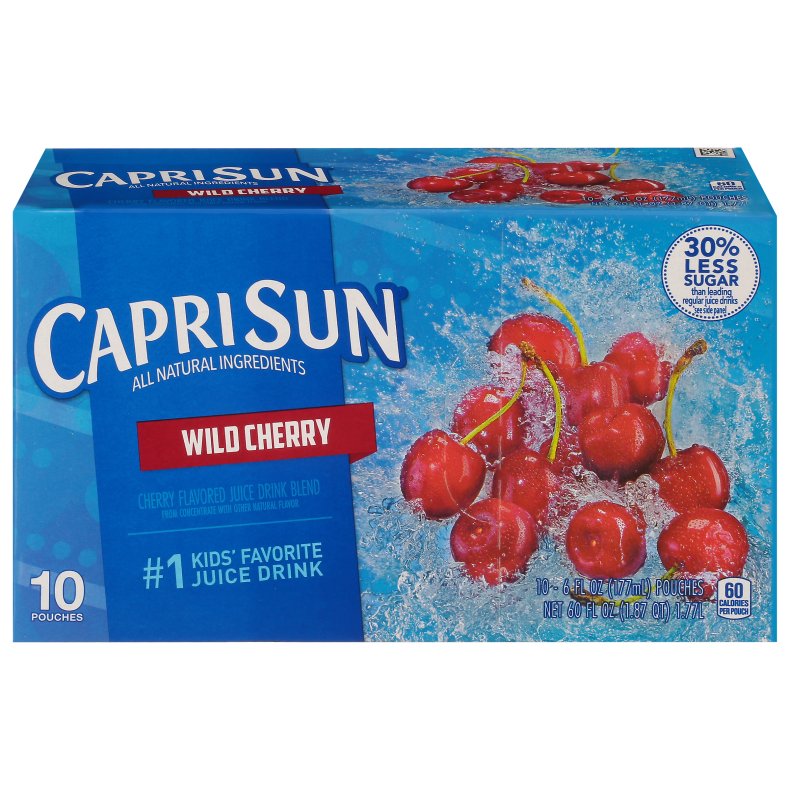 In response to tweets from parents whose children have been affected by the contaminated juice, or those concerned that it might, the official Capri Sun Twitter account has issued a blanket statement about next steps to be taken by customers.
"If you have questions about our product recall, please call us at 800-280-8252 or visit http://kraftheinzcompany.com & click on Press Room & Press Releases," the statement reads. "If you call, please make sure to have your Capri Sun packaging handy so that we can better assist you."
Customers can reach out to Kraft Heinz from 9 a.m. to 6 p.m. ET, Monday through Friday, at 1-800-280-8252 to inquire about potentially recalled products and about receiving reimbursement.
The information released about the Capri Sun recall does not mention what specific type of cleaning solution was involved. In general, parents concerned that their children may have consumed such fluids are urged to take one of several courses of action depending on the perceived severity or urgency of the problem: contact a poison control hotline, call 911 or take the child to an emergency medical center. A national hotline can be reached at 1-800-222-1222, or online at poison.org.
Last month, a similarly troublesome contamination led to a recall of Moët & Chandon luxury Champagnes across Europe, after certain batches were found to contain ecstasy. At least one death was reported in connection with the affected product.
Newsweek reached out to Kraft Heinz for comment.
Update 8/16/22, 2:12 p.m. ET: This story was updated with a photo provided by Kraft Heinz.