Captured Ukrainian Pilot 'Wants to Die'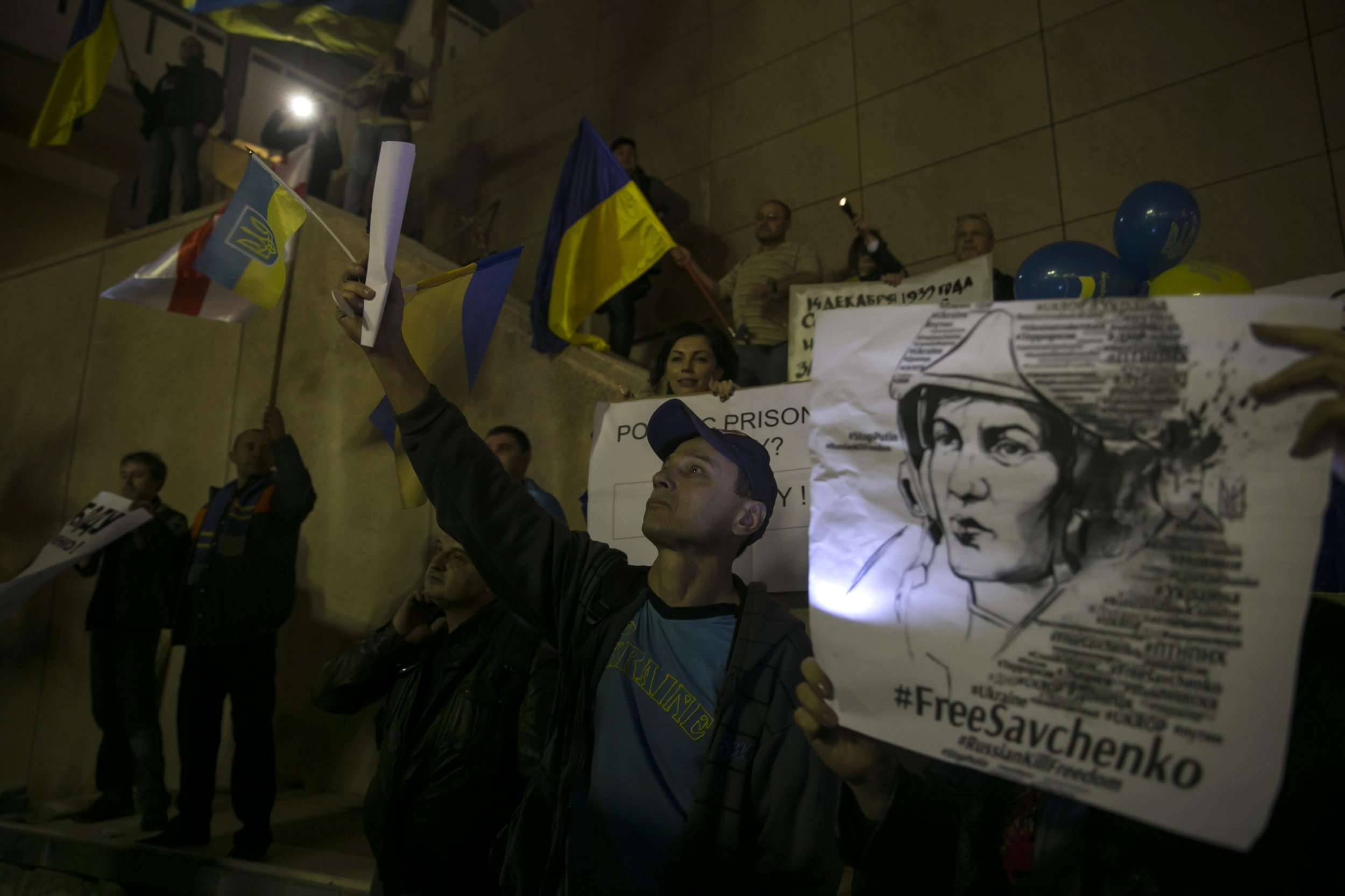 Nadiya Savchenko, the Ukrainian army officer and pilot who was captured in Russia's invasion of Ukraine and spirited to prison in Moscow, may die in captivity there on the hunger strike she has pursued for 45 days, her lawyer wrote on January 26.
As her attorney, Mark Feygin, urged Russian President Vladimir Putin in a letter to release Savchenko, her supporters mounted a global campaign of rallies and Twitter messages, and European parliament members voted a resolution in her defense.
Savchenko was captured by pro-Russian rebels in Ukraine's Luhansk province last summer, and then hustled secretly across the border into Russia, while handcuffed and with a bag over her head, she has told a Ukrainian consul. On July 9, Russia's main prosecutorial agency—the Investigative Committee, which answers directly to Putin's office—charged her with complicity in the killing of two Russian journalists, alleging that she transmitted their location to Ukrainian fighters who then targeted them with a mortar round.
Savchenko is one of several Ukrainians, including documentary filmmaker Oleg Sentsov, facing trial in Russia—Sentsov is accused of bombings, arson and terrorism—for their opposition to its occupation of Crimea and invasion of southeastern Ukraine.
Putin declined to discuss Savchenko's case when questioned about her last month in his annual press conference, saying simply that a Moscow court would decide her fate. And it is unclear whether he recognizes or cares that her continued detention has become one of the great public relations disasters of his war in Ukraine, along with last summer's destruction of a Malaysian airliner by a Russian-built missile.
Savchenko has become a Ukrainian national hero, been elected to parliament and been designated a Ukrainian delegate to the Parliamentary Assembly of the Council of Europe.
In his letter, published on the website of Russian radio station Ekho Moskvy, Savchenko's lawyer Mark Feygin calls on Vladimir Putin "for law and justice." He writes to Putin: "You, as a lawyer, should well know the one banal rule of jurisprudence … 'When you don't know how to proceed, act according to the law.'" (See a full translation of Feygin's letter, below.)
Savchenko is weakening physically, Feygin writes. "It is frightening that during my last conversation with her in prison, I heard directly from her that she wants to die."
Feygin says that proof of Savchenko's innocence has not been seriously addressed by the court. Savchenko's lawyers have submitted records from Savchenko's cellphone showing that she made no calls, as she is accused of doing, to arrange the targeting of the journalists; that she was too far away from the mortar attack to have been involved; and that when the journalists died in the attack, she already had been in the custody of the Russian-backed separatists for more than an hour.
In September, the Investigative committee subjected Savchenko to a psychiatric evaluation at the Serbsky Center, a Moscow psychiatric institute where Soviet authorities for years performed abusive treatments on political dissidents.
As Feygin's letter was published, Ukrainians worldwide held rallies to demand Savchenko's release. Using the hashtag #FreeSavchenko, they created a Twitter storm that aimed to reach 1 million tweets. In Strasbourg, France, the Parliamentary Assembly of the Council of Europe challenged the credentials of the Russian delegation over what members said is Russia's violation of the principles during the January 26 session for violations "of the basic principles of the Council of Europe."
The independent Ukrainian news site Ukrainska Pravda reported that Russia was ready to release Savchenko if Moscow's credentials to the Council of Europe Parliamentary Assembly are honored.
Here is a translation of Mark Feygin's letter:
To the President of the Russian Federation, V. V. Putin – an Open Letter

I am compelled to turn to you because of the exceptional situation of my client, Ukrainian officer and pilot Nadezhda Viktorovna Savchenko. She is accused of being involved last summer in the deaths of the Russian journalists Korneliuk and Voloshin in eastern Ukraine.

As her lawyer, I had hoped for an unbiased and lawful investigation of the case. As I saw it, even a not particularly bright student could figure this case out, not to mention the professional prosecutorial department of the Investigative Committee of the Russian Federation. Moreover there is more than enough procedural evidence to arrive at a well-grounded conclusion of Savchenko's role in the above mentioned events.

The defense has presented proof of Savchenko's innocence in court. At the time of death of the two Russian journalists, Savchenko already had been held captive for more than an hour by the militant separatist battalion "Zarya"(Dawn) which is waging war against Ukrainian armed forces in Luhansk. This is proof that Savchenko is completely innocent of the death of the journalists.

Seven months is more than enough time to check the billing records of the accused's telephone, review the testimony of eyewitnesses and carry out the required procedural measures. Nevertheless, Savchenko continues to be held in prison.

Is it any wonder that the reaction to such glaring injustice was the election of Savchenko to the Ukrainian parliament, her delegation as a Ukrainian representative to the Parliamentary Assembly of the Council of Europe, and the demand for her release that has been made by governments, foreign ministries and leading politicians of a number of states.

They perceive Savchenko's persecution by Russia as a personal punishment of Ukraine's defiance, whereas Russia's prosecution and courts view their demands for the liberation of the innocent Savchenko as an unacceptable concession to Ukrainian "punitive forces." Since when is duty and valor punishable? Unless of course you are a soldier and bravely stand in the face of certain death, does this deserve punishment? This is exactly how she behaved while in captivity in Luhansk.

The above circumstances have forced Savchenko to resort to a hunger strike, as a last attempt to secure a fair and just trial.

As I write to you, her refusal of food is reaching 45 days. That is a long time, a very long time. It is frightening that during my last conversation with her in prison, I heard directly from her that she wants to die. My words are not an exaggeration, all this can be confirmed by inquiring in the Federal Security Service's Office for the Protection of the Constitutional System, which is are providing operational support in the Savchenko case.

What's next? During your press conference on December 18 in answering a question about Savchenko's fate you planted some hope that the court case would be resolved according to the law. But the court's subsequent appeal hearing dashed those hopes completely.

We could continue listening to standard answers such as "the court will decide," but we are very, very short of time.

The court took no notice of Savchenko's abduction, did not address the in validity of her arrest, did not examine her charges. The overall impression is that the rulings pouring forth from the pages of decisions taken by various courts in this case are not reasonable and considered, but sound more like thunderous laughter, as if to say, "Why are you idiots bothering with this?"

Let's imagine the unimaginable: You are my client and I am defending you; you can potentially be sentenced to life imprisonment. Try to imagine my situation, as I helplessly try to protect your rights, appealing to the rule of law, appealing to the media, and all I get is "to the court, to the court." But there is no court, there is only the "troika" [the secret police masquerading as a court; Soviet troikas in the 1930s sentenced a quarter-million people to execution by firing squads].

I appeal to you for justice, and for the law. This is a public case, I would even say that it is widely known abroad, and that is why this case can no longer be "decided" secretly. You, as a lawyer, should well know one banal rule of jurisprudence (I learned this well while studying law): "When you don't know how to proceed, act according to the law."

So then you know what to do….

[signed] The lawyer Feygin
Irena Chalupa covers Ukraine and Eastern Europe for the Atlantic Council. This article first appeared on the Atlantic Council website.