Car Bursting Into Fireball on Texas Highway Compared to 'Hollywood' Scene
A car erupted into a fireball on a Texas highway in scenes reminiscent of a movie, with even the police comparing it to something out of "Hollywood."
The exact moment the Toyota Supra burst into flames was captured on camera by Stephen Patiño, who was travelling in a car on the other side of the 114 near White Chapel in Texas.
The clip, shared to Twitter, shows the red vehicle billowing smoke with flames shooting out the back, before the entire car is engulfed in fire as it "explodes."
The surrounding area is bathed in fire seeing some cars slam on their brakes while others drive through the flames, with the inferno setting nearby grassland alight.
No-one was injured in Sunday's incident.
Stephen captioned the video, which has been viewed thousands of times, writing: "Just witnessed a car explosion on 114 in Southlake. Please please please hope no one is hurt."
"Heroes" from the police department and fire fighters from Southlake Fire rushed to the scene, The City of Southlake Department of Public Safety (DPS) confirmed, and two eastbound lanes were closed while the fire was extinguished.
Southlake DPS tweeted: "Thankfully, no one was hurt. Great job to Southlake Fire for getting everything put out quickly!"
They later shared photos of the burnt-out wreckage, with the Southlake DPS comparing the fireball to something out of a Hollywood movie.
In a Facebook post, they said: "Our friend Stephen Patino (@YaBoyStevieP) happened to be driving by before the fire and captured it exploding on camera. We're thrilled to report to you that no one was injured.
"While this does look like a freak deal, if you ever see your car smoking, go ahead and safely pull over and get out and get away from the car and give us a call. We have no problem heading your way to make sure you're safe.
"This video does look like something out of Hollywood, but things go wrong some time. Err on the side of caution. We like you and want you to be around awhile."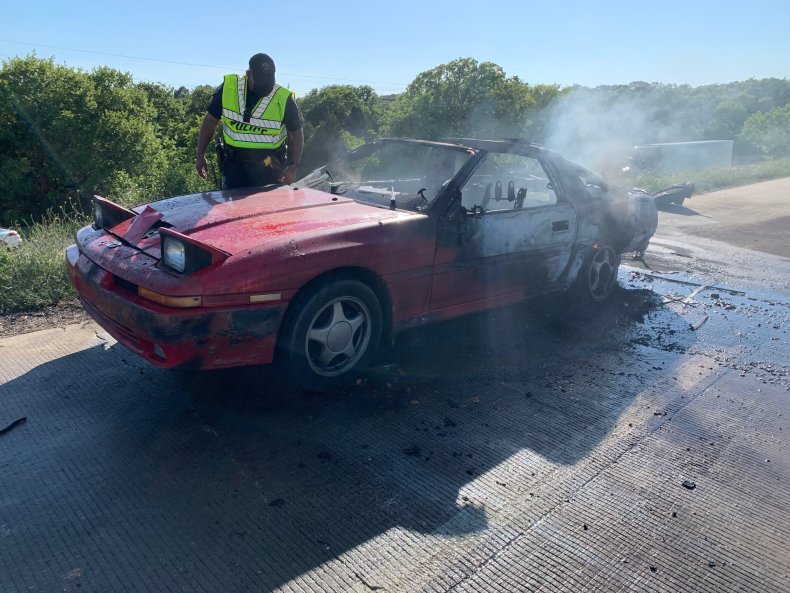 They urged any driver who thinks they can smell smoke to check it out, adding: "We're always happy to investigate smoke or check out if something isn't right. The owner of the car did everything right here and called us early enough to prevent more damage and more fire, which had spread to the grass."
The incredible footage of the inferno quickly went viral, with others also comparing the fire to a movie plot.
Commenting online, Ann Lutterbach wrote: "Wow! I'd like to talk to the driver of the SUV who drove through that fireball."
"Whether the definition is explosion or rupture I'm sure the driver is thankful to be alive as are those who drove past the inferno!!" Marilyn Christian wrote.
Mag Anderson said: "Everytime I watch this video I'm shocked that no one was injured and that the poor cars passing by during the explosion don't subsequently crash."
Clearly shocked, evil2kinevil asked: "Someone smarter than me explain how that can happen? Mythbusters taught me car explosions almost never happen like what I see in the movies, but that looked pretty damn Michael Bay-ish there."
While Longpips1000 added: "So... they do explode like the movies!"