Man Running From Police Crashes Straight Into Prison Grounds
A suspect fleeing law enforcement in Australia accidentally ran straight into a prison Tuesday, New South Wales police reported.
The man, 46, had been on the run from police since Monday after allegedly going on a crime spree in the Hunter Valley wine region north of Sydney.
Police began their pursuit of the unnamed man Monday when officers followed a stolen tipper truck around the town of Gloucester. They found the truck concealed at a property in the area.
The next morning, a stolen gray Toyota Hilux with lifted number plates caught the attention of cops. Police from Muswellbrook, roughly a 100 mile-drive from Gloucester, spotted the vehicle after it was taken to a service station in nearby Scone.
Police chased the gray vehicle, which smashed through a farm fence and came to a halt. The man fled on foot across a rail line into some paddocks. Little did he know, these were the paddocks of St Helier's Prison Farm: part of a minimum-security correctional center. Inmates at the Muswellbrook men's facility produce beef and vegetables.
Officers arrested the suspect and charged him with more than a dozen offenses, including stealing, trespassing, and resisting police. He is set to appear at the Muswellbrook Local Court Wednesday.
New South Wales police did not immediately respond to Newsweek's request for comment.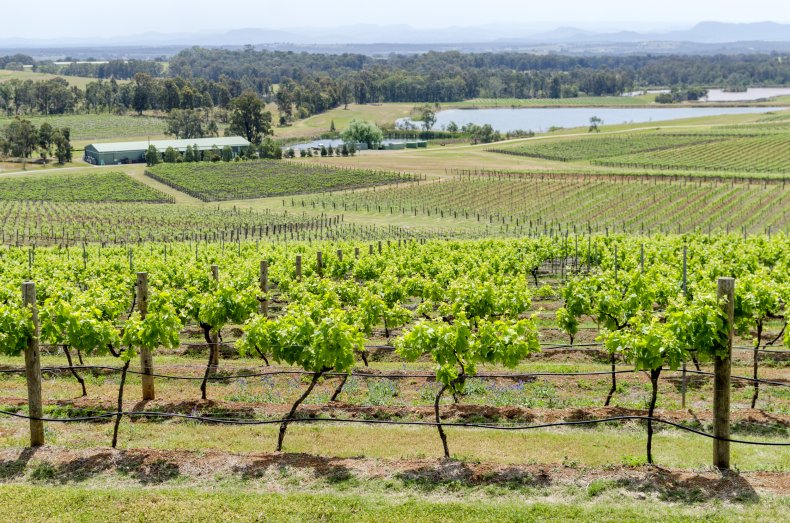 This isn't the only unusual police chase to make headlines in recent weeks. In May, a former jockey fled the site of an arson attack in a car painted like the General Lee from The Dukes of Hazzard. Suspected firestarter, Oswald Pereira, allegedly set his ex-wife's Marion County, Florida home ablaze after a domestic disturbance.
Pereira fled police in his painted Dodge Charger at speeds of up to 100 miles per hour, before switching it out for a white SUV. Police eventually caught up with him after he ran into his mobile home. Pereira suffered serious burns, but nobody else was injured in the blaze.
Earlier this year, police pursued a naked driver traveling backwards on the I-95 through Philadelphia. Delaware police first noticed and chased the driver, but state troopers took over the hunt when he crossed state lines into Pennsylvania. They eventually stopped the driver with the help of spike strips—ribbons of metal barbs also known as tire shredders.
The car eventually collided with a police vehicle in Essington, causing major traffic jams nearby. Nobody was injured in the crash, which appeared to have caused only minor damage to the police vehicle.