Car Crashes into Maryland House While Upside-Down: 'Craziest Scene'
A driver reportedly managed to walk away from a freak car crash that launched their vehicle spinning into the air—leaving it embedded upside-down in the wall of a nearby house.
Photos of the scene began to go viral after a student journalist shared pictures online of the bizarre incident in Chillum, Maryland, on Sunday night. The SUV, a metallic red Honda CR-V, could be seen lodged in the brickwork of the home over the raised porch, with its back wheels still almost touching the ceiling, which had partially fallen through.
Part of the wall of the home had collapsed, and a staircase was visible through the void. The scale of the destruction was at odds with the wooden railings around the porch steps, and the mailbox right next to it, which all remained unscathed.
The 18-year-old student—who wished to be identified only as Vilis— tweeted a series of images with the caption: "CAR DRIVES UP HILL & FLIES *INTO* HOUSE UPSIDE DOWN: 6900 block of Riggs Road in Chillum-- amazingly, occupant was able to self-extricate. He drove up a hill, got some air-time, and ended up inside of a house. Craziest scene I've been on."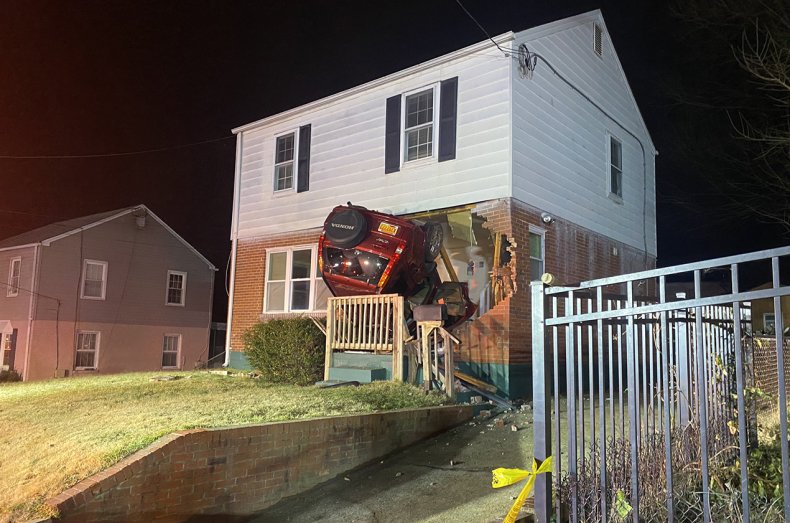 Neither the driver nor anyone in the home was injured in the crash, according to the student reporter, who is due to graduate in 2026.
The post, which was retweeted hundreds of times overnight, was uploaded to the MoCo PG News account, which covers local news across Montgomery County and Prince George's County. In a series of updates throughout the evening, Vilis added: "The car is now out and there are *NO INJURIES.* Driver on scene told officers 'he was driving 40 miles per hour.'"
The unusual nature of the crash scene saw the story picked up nationally, and Vilis tweeted: "My first time a news station has purchased my footage after months & months of trying!" The images were used by Washington, D.C., station 7 News DC, with the Vilis saying he was "grateful for this opportunity."
Vilis told Newsweek: "Fire trucks and police cars had the roadway completely shut down and people going the other direction were rubbernecking and causing more traffic on the other side. After about 15-20 minutes on scene, a crowd of over 200 people in total gathered to take pictures and videos. Even the firefighters and police officers were taking pictures!"
He added he hits the streets most evenings on the hunt for stories and is now "leaning towards either a media or criminal justice major" at college.
Newsweek has contacted Prince George's County Police Department to confirm details of the incident and if there have been any arrests during the investigation.
It's believed that there are metal bollards lining a section of Riggs Road just past the house in question, sparking suggestions the area is a known traffic danger spot.
It is not unusual for cars to plow through bricks and mortar and come to a stop inside a property.
In November 2022, an elderly driver crashed his vehicle into a Wendy's restaurant in South Carolina, killing a customer and injuring several more.
In April 2021, a woman was left with a broken skull after a car careered off a road and crashed into her house in the northern U.K. city of Leicester.
Later that same year, a man who was sleeping on his couch in Cleveland Heights, Ohio, was suddenly awakened when a vehicle being chased by police crashed into his home, feet away from where he lay.
Update: 01/31/22 12:14 p.m. ET: This article was updated with comment from Vilis.