Photos Show Police Station Garage After Woman Crashed Car Into It
A woman in Portland, Maine, drove her car through a police department garage, according to police, and photos released by the police department show the vehicle eventually got stuck on a flight of stairs.
The Portland Maine Police Department issued a press release on Saturday on its Facebook page and detailed the incident. They said the woman blamed her driving on GPS instructions.
"A 26-year-old female driver drove through the Police Department garage, across our pedestrian plaza and then tries to drive down the stirs to Middle Street," the Facebook post said.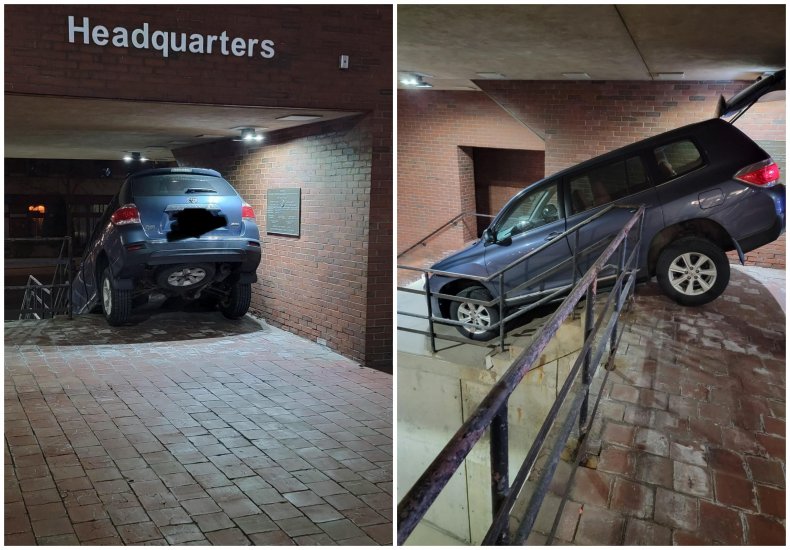 "She said she was following her GPS instructions but responding officers felt it was her excessive blood alcohol level. She was issued a summon for OUI (operating under the influence)."
The police added that no one was injured in the car crash and said there was only a small amount of property damage. They closed by asking drivers not to drink before operating a vehicle.
Newsweek has contacted the Portland Maine Police Department for comment.
On the same day, the Portland Maine Police Department released an image of a car damaged on a train track.
They explained that alcohol was not involved but that a male driver had gotten lost and ended up on the tracks.
"Another car story. Most of you would think that alcohol was involved in this one too," the post read.
"We are happy to report that no alcohol was involved when a 25-year-old male driver from out of state got lost and didn't realize he was driving down the railroad tracks off of Congress Street until it was too late. Please drive safely."
The post did not explain how the car was damaged or if any injuries occurred as a result of this incident.
Earlier in April, The police department also issued a warning to vehicle owners due to thefts of catalytic converters from cars.
They issued a press release on their Twitter page on April 12 and called on car owners to be vigilant against thefts.
"Between February 11 and April 11, there were 12 reported thefts or attempted thefts of catalytic converters from vehicles," the statement read.
"As Portland Police Detectives to continues to investigate these cases, the department is urging vehicle and fleet owners to monitor where their vehicles are parked."
They added that these thefts were occurring in parking lots in areas that had little security camera coverage and were not very well lit.
They also said that the owners of these cars that had been victims of theft had left their vehicles unattended for days.
The Police Department added that "larger vehicles-box and commercial trucks and vans" were being targeted, according to their findings.
They closed by providing a phone number for citizens to call if they had information that could help the police. The number is 207 874-8575.