Man Escapes Car Highjacking After Appearing to Shoot Attacker
A man managed to avoid his vehicle being hijacked in South Africa after fending off his attackers, local reports say the driver shot one of the perpetrators.
Three men set upon a car at a notoriously dangerous intersection on Josiah Gumede Street in Pinetown, Durban, but failed in their attempted car hijacking after the driver appeared to fire gunshots at the group.
Footage of the incident shows three men running up to a vehicle that is stationary in traffic, as traffic begins to move, men run up to the car and attempt to open its doors.
Two of the men can be seen fleeing the vehicle after what appears to be an altercation on the driver's side, a third man falls to the ground after being shot, reported local outlet IOL News.
It was unclear from reports of the incident whether the attacker was shot and if they were fatally shot, and police have yet to issue any comment on the attack. Newsweek has contacted Durban police for further information.
CCTV footage of the attack was shared on Facebook, where numerous other drivers commented that they had been victims of crime at the same dangerous intersection.
"I drive through that intersection twice a day, I have been attacked once before and had an attempt on the second occasion. Now I drive past with my finger on the trigger. So far so good," social media user Strinivasan Addieah wrote.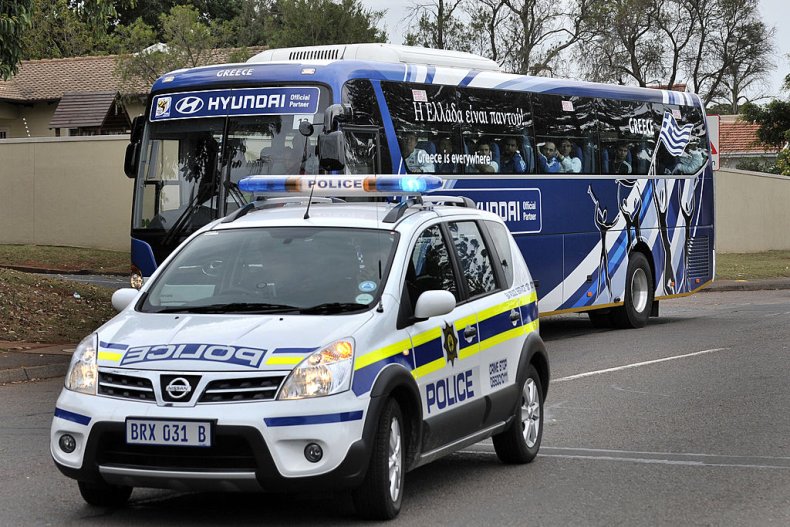 Another, Odie Versfeld, praised the driver of the vehicle for managing to fight off the attackers.
"I've been robbed at the same intersection three times but not as quick on the draw as this guy. Only once out of the three times I got some shots fired off. Well done! Give the man a bells."
In July, it was reported that car theft had increased in Durban during the coronavirus lockdown, following an initial dip in the same crime at the beginning of the local COVID-19 restrictions.
Authorities also noted that in the middle of the year, car hijacking had increased compared to car theft, by 59 percent to 41 percent respectively, compared with an even split in previous months.
"This is a concern to us due to the trauma associated with a hijacking and the potential impact on our customers," said Ron Knott-Craig from stolen vehicle recovery service Tracker SA.
"It is a fact that some vehicles are taken, whether it be via theft or hijacking, with the intention of taking them into neighboring countries. We are also aware that there are syndicates that strip high-end luxury vehicles for parts which are then shipped to foreign destinations."