Car Plows Into Outdoor Dining Setup in Philadelphia, Multiple People Hospitalized
Multiple people were seen loaded onto stretchers after a car plowed into the outdoor dining space of a restaurant in Philadelphia on Wednesday morning.
The crash happened around 11 a.m. in Northern Liberties neighborhood near Fourth and Brown streets, where Cafe La Maude is located. The cause of the crash and the extent of the victims' injuries were not immediately clear.
First responders told WPVI-TV that eight people were transported to a hospital from the scene. The victims are being treated at Temple University Hospital and Thomas Jefferson University Hospital. All are in stable condition.
Diners were eating outside when the car lost control and rammed into Cafe La Maude's dining structure. The crash left chairs, tables and splintered wood scattered on the road. The silver sedan involved in the incident sustained damage to the front and appeared to come to a stop after it collided with the rear passenger side of a van parked on the street.
Police are on the scene investigating the cause of the accident, and helicopters could also be heard in the area. It is unclear if the crash was deliberate.
Cafe La Maude told WCAU-TV that eight people were in the parklet at the time of the crash and that the restaurant would close for the rest of the day.
The Philadelphia Police Department told Newsweek that officials do not have further information on the incident at this time.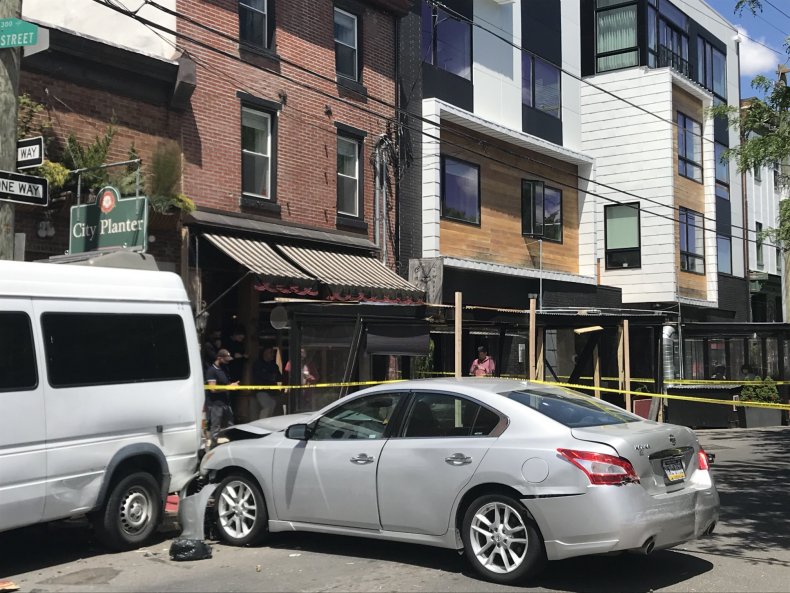 This is not the first time a car has crashed into an outdoor dining area set up to make more space for diners during the coronavirus pandemic.
Last month, one person died after a car collided with a man's motorbike and caused the motorcyclist to crash into an outdoor dining structure on a busy block of Astoria in New York's Queens borough. The driver and a third person dining at the restaurant suffered injuries from the accident.
In March, eight people were injured when a van crashed into an outdoor dining area in Manhattan. A man driving a white van collided with the back of a Toyota Camry, which sent the Camry into an outdoor dining structure that was unoccupied. However, the flying debris from the outdoor dining setup hit a 5-year-old boy and a 7-year-old boy. Six adults were also injured, including some people who were in the Camry.
In San Francisco, two pedestrians were injured after a driver crashed into the outdoor dining parklet at an Irish pub and restaurant in the Mission District on April 19. It is unclear what the cause of the incident was, although some witnesses said the driver was distracted.
This story was updated on May 12 with additional information.