Car Plows Into Women on Closed Seattle Highway Amid Protests
Two women in Seattle have suffered serious injuries after being hit by a car driving at speed through a section of freeway that had been closed because of protests.
Disturbing video shared on social media shows a white car speeding directly towards a group of protesters on Interstate 5 [I-5] and colliding with two people who are flung into the air amid screams from those nearby.
Washington State Patrol Capt. Ron Mead told a press conference that one of the victims, a woman aged 24 from Seattle had suffered critical, life-threatening injuries. Another woman, 32, from Bellingham, had serious injuries.
Police have arrested an unnamed 27-year-old man from Seattle, Mead said, adding that impairment was not considered a factor. Police are still investigating the incident and motive, and the suspect faces felony charges, the Associated Press reported.
WARNING: The video below contains disturbing scenes of the incident.
Mead said protesters had shut down the interstate for 19 days in a row and that it was not a safe place for pedestrians.
"My hope is, as a result of this tragedy, protesters will reconsider their desire to be on the interstate because I cannot guarantee their safety, plain and simple," Mead said. The state patrol tweeted two pictures of the driver's car, a white Jaguar with damage to its bumper and windshield.
After the incident, #seattleprotest started trending on Twitter. One person who shared the video on social media, tweeted: "Please pray for the victims of this cowardly and senseless attack. They were peaceful protesters. This is terrible."
Newsweek has contacted Washington State Patrol for further comment.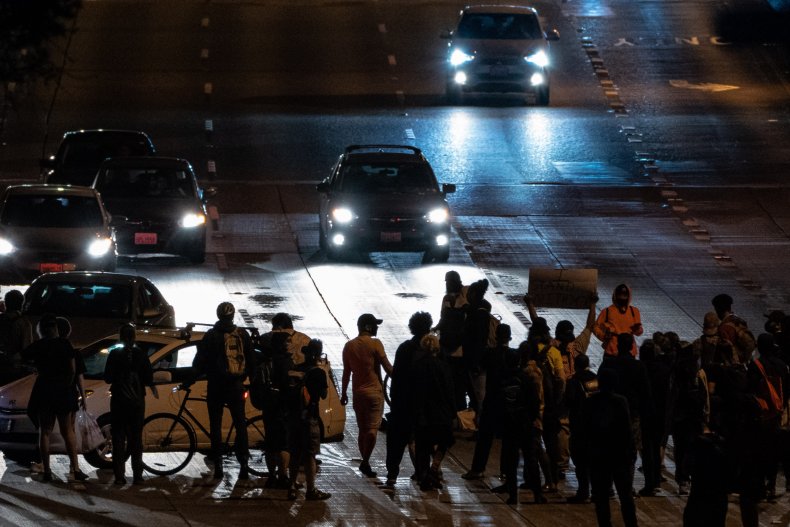 There has been considerable unrest in Seattle since the killing of George Floyd in Minneapolis on May 25. This week, authorities cleared the "Capitol Hill Organized Protest" [CHOP] zone near Cal Anderson Park.
Law enforcement is trying to return the area to normal although conflict continues there with nightly standoffs between demonstrators and officers, and dozens of arrests in the last few days.
The Seattle Times reported that protests on Friday night included a march by LGTBQ people of color, who walked to a street in the neighborhood of Mayor Jenny Durkan, who had issued the executive order to dismantle the CHOP zone.
The I-5 had been closed after a group of protesters walked downtown from the former CHOP zone, chanting "Black Lives Matter," calling for Durkan's resignation and for the police to be defunded.
On Thursday night and Friday morning, 10 people were arrested, adding to the dozens who had been detained throughout the week, although King County prosecutors have said they will not charge non-violent protesters, The Seattle Times reported.