Cars Queue for Whataburger Drive-thru As Life-Threatening Nicholas Batters Texas
Cars have been filmed queuing around the block for a Whataburger drive-thru in Texas as Nicholas was about to make landfall on Monday night.
A clip shared by Texan Heather Breland, posting to TikTok as @littlehellion86, revealed a long line of cars, patiently waiting for food in the lashing rain.
The video was filmed on the outskirts of Houston, at the 24/7 fast-food restaurant on Spencer Highway, La Porte, around 9pm on September 13.
"When there's a tropical storm coming and only Whataburger has your back! Everything else is closed. Gotta love Texas," Breland captioned the clip, which was uploaded on Tuesday.
Speaking to Newsweek, Breland claimed she had waited around 30 minutes for food and headed to Whataburger after driving past a few fast-food outlets that were closed.
She said: "The storm officially arrived with high winds and rain at around 1am and not long after that is when the electricity in the area had gone out. I am an EMT and did just get off shift when I had gone by there. My husband and kids said they had already had dinner so I was looking for something quick and easy to eat for myself."
Nicholas made landfall as a category 1 hurricane, before being downgraded to a tropical storm, then a tropical depression, according to the National Hurricane Center (NHC).
Weather warnings extended from Matagorda, Texas, to Cameron, Louisiana, and from Sargent to Sabine Pass, and Galveston Bay, at its height.
Heavy rain, high winds of up to 70 miles per hour and a storm surge caused widespread flooding throughout the region, leaving 500,000 residents without power in Texas, according to poweroutage.us.
Although the storm has lessened in power, the NHC warned that "life-threatening flash flooding is possible along portions of the central Gulf Coast the next couple days."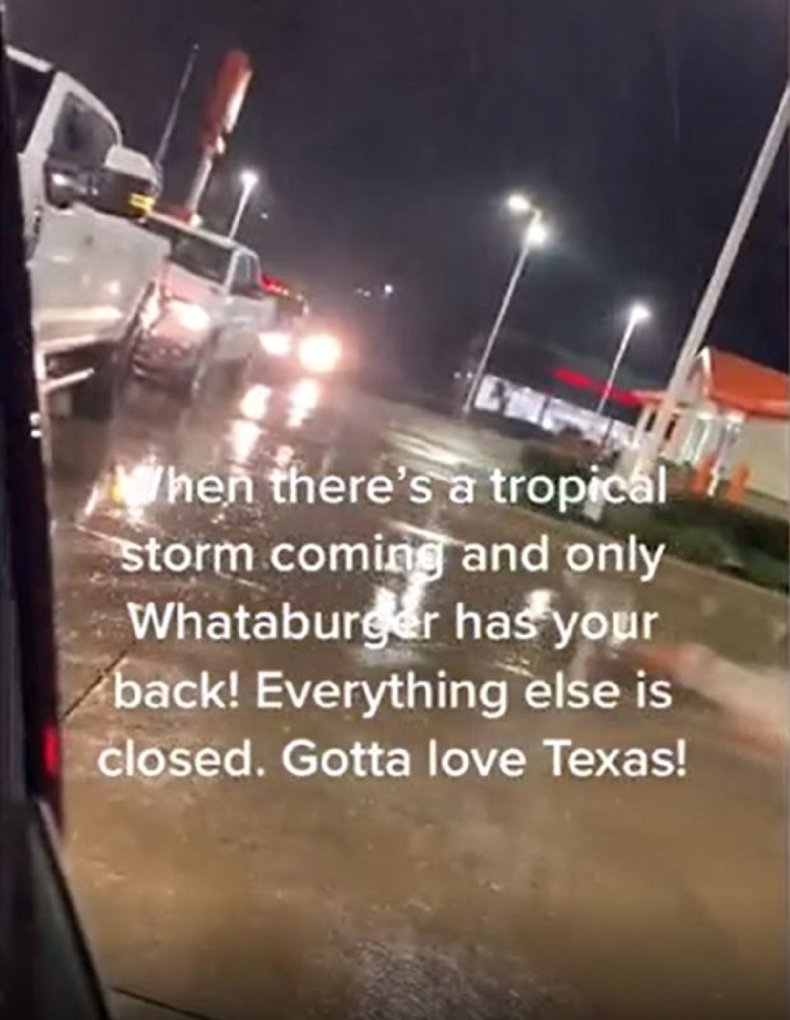 "Urban flooding" is also a possibility along the Texas coast, as Nicholas makes its way northeast across the southern portion of the state.
Governor Greg Abbott signed an emergency declaration on Monday, warning Texans to prepare for "extreme high-water events, including flooding and potential damage caused by the rainfall."
He also urged people to exercise caution when travelling, adding: "It seems like every time we have heavy rain in the Houston area, there are people who do drive into high water. And they sometimes lose their vehicles and, even worse, sometimes lose their lives.
"Your life is the most important thing that you have. Be cautious as you travel about the Houston area in the Harris County area for the next few days."
That sentiment was echoed by some of the TikTok users who left comments on Breland's video, who felt that people should be hunkering down at home rather than heading out for fast food.
The clip, which can be seen here, has amassed more than 345,000 views, with other commenters praising the chain for staying open or sympathizing with the workers.
Davidparson515 wrote: "Seriously? Dumb. I would think people would have the sense to stay home."
"I just know that line took an hour to get through," @sigmasmiles reckoned.
Reggie Gilliam posted: "Saw that line earlier today around the block!"
Vince wrote: "You know it's gonna be bad only if and when a Whataburger closes."
Jasmineem commented: "Yes it's literally always open they don't care about no storms."
Edwin The said: "Whataburger is always there for us no matter what."
Pawohla reckoned: "Oohh do I feel sorry for the workers."
"Poor Whataburger employees," Liz added.
Responding to a comment from someone claiming to be a fast-food worker, Breland wrote: "We appreciate you all!"
Newsweek has reached out to Whataburger for comment.
Update 9/15/21, 12:55 p.m. ET: This article was updated to add video, comment and images from Breland.