Car-Stealing Teenage Couple Captured in Florida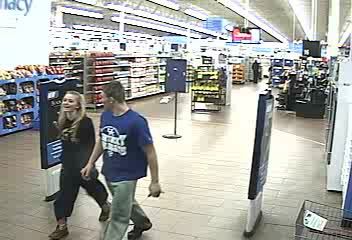 Updated | This here's Miss Cheyenne Phillips. This is Dalton Hayes. They rob cars, are madly in love and were captured after living on the lam for nearly two weeks. Authorities caught the pair sleeping in a stolen pickup truck in Panama City, Florida early Sunday morning, reports Reuters. The Grayson County Sheriff's Office said the pair are currently being extradited back to their home state of Kentucky, where they face multiple felony charges.
Sounds like a plot loosely based on Bonnie and Clyde, but it's true: The teenage couple from Grayson County, Kentucky ran away and were flying south, where they along the way were suspected of having wreaked havoc on cattle farms, swiped three cars and some firearms and cashed stolen checks. And of course they worried their parents.
Cheyenne Phillips, 13, and Dalton Hayes, 18, have been going steady for three months, but they fled when Hayes's mother, Tammy Martin, found out that Phillips was not in fact 19 years old, but 13, and confronted her about it. "I texted Cheyenne and said the police are looking for you, she says why; I said, they say you're underaged," she told WHAS-TV Louisville. Phillips's father had reported her missing to local police when she didn't return home the night of January 3 and spent it at her boyfriend's instead. Authorities alerted Martin, but her son and his girlfriend had vanished by the time she got home. Police believe that the two were staying with family and friends for about a week, until they began committing crimes.
On January 11, one week after they went missing, the couple jacked a truck from Kathy and Jim McGrew, a couple living in Grayson County. The McGrews told WHAS-TV Louisville that they heard a loud sound, "like a bomb went off," and it was the pair stealing a truck from their garage. The two thundered down the road in the stolen car with the police and Jim McGrew, who attempted to chase them in his personal airplane, in hot pursuit.
The teenagers damaged $7,500 worth of property after barreling through a cattle farm, and then disappeared into the woods, where they made their escape. Later, local police found the truck and a pile of clothes the two had left behind. Not an hour and a half later, they had stolen another vehicle, a 2006 Toyota Tacoma, and skipped town.
On Monday, the Grayson County Sheriff's Office released surveillance images placing the pair at a Walmart in Manning, South Carolina, where they were driving the Tacoma, which happened to have a gun inside, and cashed two stolen checks for $20 each, reports The Washington Post. This car has since been recovered in Henry County, Georgia, but no mention of the gun.
Authorities confirmed on Thursday that the couple stole a silver 2001 Toyota Tundra, which was parked in walking distance from the Tacoma they abandoned. Said car has a certified firefighter license plate and contains two handguns, a .38 special and a .45 caliber, reports the Lexington Herald-Ledger. The Grayson County Sheriff's Office stated that the two had been seen in Florida on Friday, and were eventually caught there.
Since he is no longer a minor, Hayes may be charged with felony car theft and custodial interference.
The criminal couple hadn't made an attempt to contact their parents, save for a single text that Hayes sent his mother on January 6, two days after they disappeared. "Mommy, don't worry. I'm fine, okay—plenty of money and food. Love you, good night, sweet dreams."
Speaking to the Lexington Herald-Ledger, Grayson County sheriff Norman Chaffins said the authorities' primary concern was getting the teenagers home safely. It wasn't believed the couple has malicious intentions, and they were not suspected of having committed any violent crimes. "We think it's important for them to get back home, because they're starting to bite off a little more than they can chew," he told the paper. "Our concern is that they could get themselves hemmed up in something that they.… We just don't want them to get hurt."