Man's Car Stolen While He Committed Burglary, Police Say
A man in Washington State was busy committing burglary when someone stole his truck, according to police in Kennewick.
William Kelley called the police in the early morning hours on August 25, telling the dispatcher his red Chevy pickup had been stolen. According to Kelley, he had been drinking at the Tin Hat Tavern the night before and decided to leave the vehicle behind rather than drive home drunk.
When he returned to get the truck Sunday morning, Kelley said, he stopped to go to the bathroom and left the keys on the front seat. When he got back, Kelley claimed he saw a man throw a bicycle into the bed of the truck and drive off. He said he chased the car on foot but it was too fast.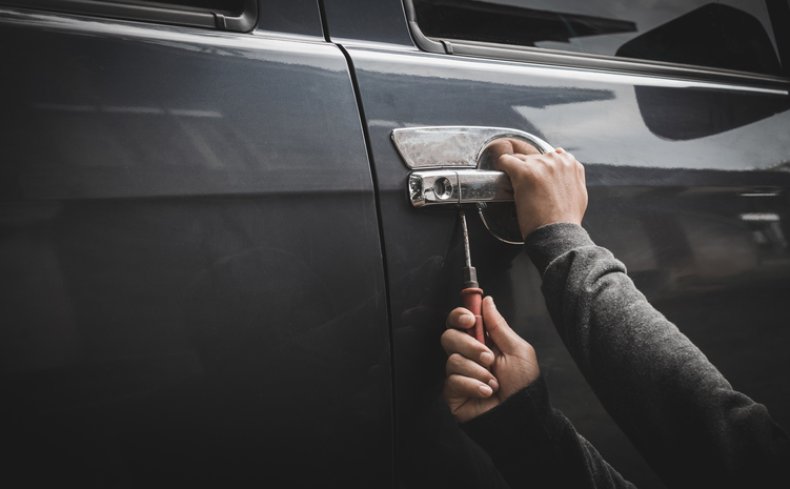 Police examining security footage from a nearby businesses corroborated Kelley's story about a bicyclist taking his Chevy. But, they say, the footage revealed something else: Kelley's truck was taken while he was stealing items from a scrap yard on the same block. The truck thief apparently interrupted him mid-crime.
Police booked Kelley, who was already wanted on an existing warrant, on a burglary charge. Authorities are still working on finding the person who stole his vehicle.
In 2012, a group of bank robbers in Houston discovered their getaway car was missing—a customer fleeing the scene had apparently hopped into the nearest car, driving for several miles before pulling into a parking lot and calling 911.
The robbers had stolen the car from someone else, according to the Houston Press, and were so panicked by its disappearance hat they left the bank without taking any money.