Car Wreck Caught on Camera as Reporter Talks About Deadly Crash
A television journalist in Los Angeles, who was reporting on a fatal hit-and-run, was interrupted by a separate crash on Thursday.
KTLA reporter Gene Kang was discussing how the area of Hoover and 84th streets has seen an increase of motor vehicle collisions since the beginning of the pandemic when the crash occurred. Kang was at the intersection to report on a crash that killed a 42-year-old who was crossing the street with his family on the evening of February 26.
"You see Hoover Street here, officials say it's one of the most dangerous streets in all of Los Angeles," he says, before a sedan can be seen crashing into another car. The sedan then turns onto a curb and drives over it appearing to flee the scene with visible damage.
"Just more evidence as to how scary it is here on Hoover street," Kang said in a segment after cutting away from the footage of the crash he witnessed. The reporter added that the news crew called 911 after seeing the crash, and that none of the victims were hurt.
Officers told KTLA they believe the driver who fled the scene was attempting to get away from a previous crime, and recovered a license plate at the scene.
A report released by the U.S. Department of Transportation last month found that traffic fatalities "continued to rise at a record pace in the first nine months of 2021."
The National Highway Traffic Safety Administration (NHTSA) estimates that around 32,000 people died in motor vehicle crashes in the first three quarters of 2021, which is "an increase of approximately 12% from the 28,325 fatalities projected in the first nine months of 2020."
"We have to change a culture that accepts as inevitable the loss of tens of thousands of people in traffic crashes," NHTSA's Deputy Administrator Dr. Steven Cliff said in a statement when the report was released. "This will require a transformational and collaborative approach to safety on our nation's roads."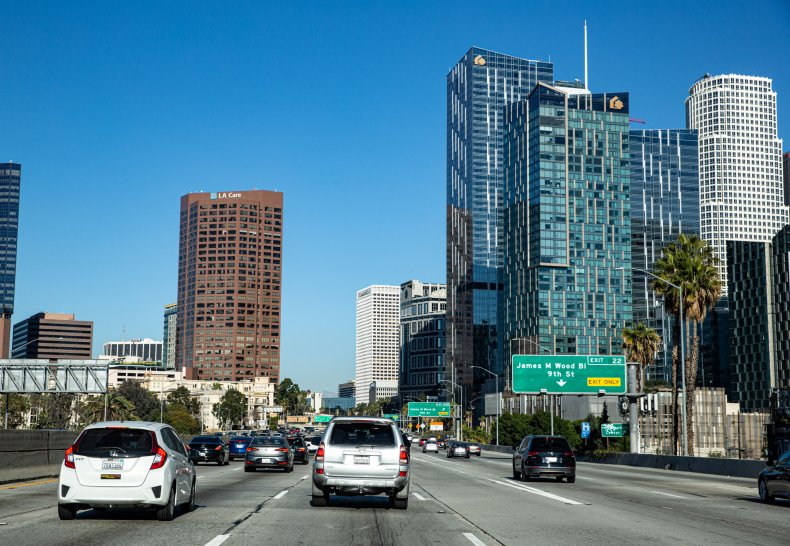 Research from the American Automobile Association (AAA) also found that drivers didn't drive more over the course of the pandemic, but that those who did were more likely to be risky on the road. AAA also found 4 percent of drivers increased their driving during the pandemic, and that those drivers tended to be young and "disproportionately male."
"Our research finds that higher-risk motorists accounted for a greater share of drivers during the pandemic than before it," AAA Foundation for Traffic Safety Executive Director David Yang said.