Migrant Caravan: Asylum Seekers Turned Away From U.S. Border, Told Crossing Has 'Reached Capacity'
Dozens of Central Americans traveling with a caravan of people seeking asylum in the U.S. were turned away from the country's border with Mexico on Sunday because officials said the crossing had reached capacity.
As many as 50 people were unable to cross into the U.S. after Customs and Border Protection (CBP) Commissioner Kevin McAleenan announced that the San Ysidro port of entry in San Diego was full.
"We have reached capacity at the San Ysidro port of entry," he said in a statement on Sunday, adding that migrants "may need to wait in Mexico."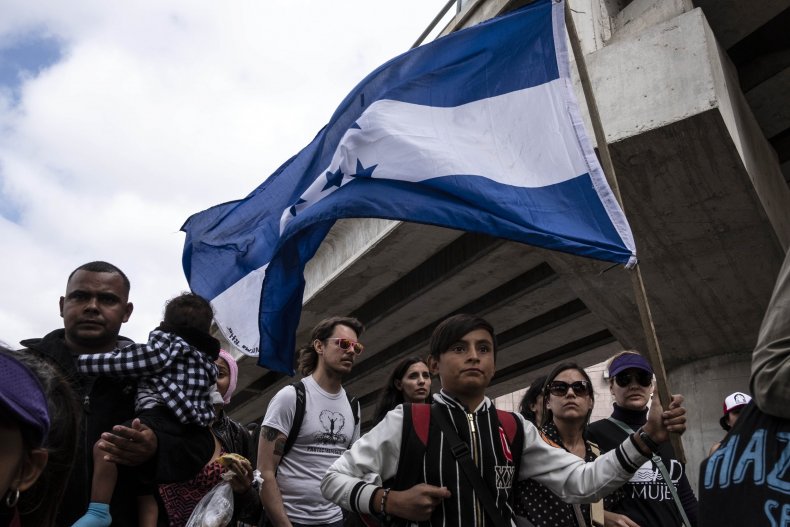 By sunset, Reuters reported that asylum seekers were preparing to sleep outside the border crossing, setting up makeshift beds using towels and what blankets were available.
McAleenan said in his statement that CBP officers would "be able to take additional individuals into the port for processing" as "sufficient space and resources become available."
Members of the caravan, which began its journey to the U.S. border from southern Mexico late last month, said they were willing to wait as long as it took to make their way across the border.
"We've been waiting so long that it doesn't really matter whether it's today, tomorrow or when they let us in," Irineo Mujica, director of Pueblo Sin Fronteras, the immigrant rights advocacy group that organized the caravan, told Reuters.
The caravan happens annually as a protest to raise awareness of the plight of asylum seekers. In previous years it was largely symbolic, with participants only marching in Mexico rather than attempting to make it all the way to the U.S. border to seek asylum.
This year, however, many members of the group were determined to make it to the U.S. over fears for their safety.
Most of the asylum seekers traveling with the caravan fled Guatemala, El Salvador and Honduras, seeking refuge from threats of violence and political persecution. Many Hondurans have left their country to escape the instability and violence in the wake of President Juan Orlando Hernández's contested reelection.
Read more: Hundreds of Americans to open their homes to asylum seekers traveling with migrant caravan
At one point, the caravan gathered a record number of participants, with as many as 1,500 people joining the march to the U.S. border. By the time asylum seekers reached the Mexican border town of Tijuana, their number had dwindled to the hundreds.
President Donald Trump vowed to stop migrants from entering the U.S. and repeatedly called on Mexican authorities to crack down on the group. He also ordered thousands of National Guard troops to station themselves at the border to monitor the situation.
Last week, U.S. Secretary of Homeland Security Kirstjen Nielsen warned that her agency would also be keeping an eye on the caravan and said it would not hesitate to prosecute anyone caught trying to enter the country illegally, as well as anyone trying to make a "false immigration claim."
U.S. border authorities said on Saturday that some members of the caravan had already been caught trying to enter the U.S. by slipping through the fence dividing Tijuana and San Diego. They encouraged the rest of the group to make their asylum claims at the border, despite members of the group being told the port of entry was full.